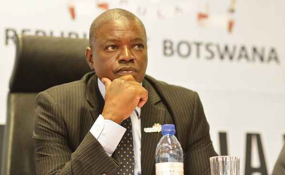 Photo: The Patriot
By Anastacia Sibanda
Gaborone — President Dr Mokgweetsi Masisi on February 21 received a report on the hunting ban social dialogue.
Receiving the report from the sub-committee chairperson Mr Frans Van Der Westhuizen, President Masisi said it would be submitted to cabinet followed by the white paper and sharing it with the public.
"If need be we will give Parliament an opportunity to also interrogate it before we make a final decision," he said.
Mr Van Der Westhuizen, who is also minister of Local Government and Rural Development, said the Ministry of Environment, Natural Resources Conservation and Tourism had stopped hunting of wildlife in Botswana effective January 2014.
He said because of the observed consequences, the matter became a subject of discussion across the country.
Proponents saw it as a conservation effort which would create a conducive environment for increased wildlife populations while those against argued that hunting was itself a good wildlife management tool.
The minister said opponents further maintained that if and when wildlife populations and human life were taken into consideration, communities would become good conservationists.
"It was also observed that as communities realised the potential value and associated income to be derived from wildlife resources and related activities, they will be converted to be good conservationists as opposed to concentrating on negative aspects of property destruction and loss on human lives caused by wildlife," he said.
Mr Van Der Westhuizen said consultation covered Kgotla meetings, full council meetings, submission of papers and meetings with individual and private entities.
Entities consulted included Elephant Without Borders, community trusts such as KALEPA-Kazungula, Lesoma, Pandamatenga, CECT-Chobe as well as the NGO Council, Botswana Wildlife Producers Association and individuals including Richard White, Mark Kyriacou,Richard Pascall of Bartrek Ranch in Tsabong.
He said among the recommendations made by the committee were the lifting of the hunting ban, development of a legal framework to create an enabling environment for growth of safari hunting industry, management of Botswana elephant population.
Others are that the Department of Wildlife and National Parks undertake community outreach programmes for human conflict mitigation, compensation for damage caused by wildlife, amounts and the list of species that attract compensation should be reviewed, that all wildlife migratory routes not beneficial to the country's conservation efforts be closed and that game ranches be demarcated.
Source : BOPA