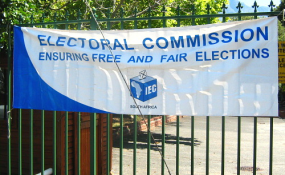 Photo: Verna Rainers/AllAfrica
analysis
By Greg Nicolson
President Cyril Ramaphosa defended the ANC's controversial list of candidates for Parliament on Thursday, saying the party followed a democratic process and is ready to win the upcoming elections.
"Watch this space as we move forward," President Cyril Ramaphosa said in Soweto on Thursday while campaigning door-to-door ahead of the 8 May elections.
He had just finished speaking about the ANC's process of rejuvenation, renewal and the lessons it has learnt from its mistakes when he was asked about the compromised candidates included in the party's list of nominees for Parliament.
"To us as an organisation, as we move forward we obviously want to make sure that we continue to have people who are going to serve the interests of our people," he said.
The ANC's list submitted to the Electoral Commission of South Africa (IEC) on Wednesday has not been released, but Secretary-General Ace Magashule has confirmed it includes some of the party's most controversial leaders such as Nomvula Mokonyane, Mosebenzi Zwane, Malusi Gigaba and Bathabile Dlamini.
"We are a broad movement. We are a democratic movement and the membership of the ANC, if you remember how we chose all the representatives, they were chosen from the ground. We...