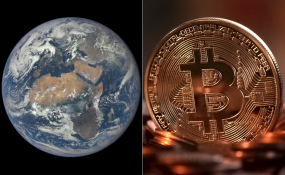 Photo: allafrica.com
By Bukola Idowu
With the overall cryptocurrency market capitalisation growing by $5 billion, the price of Bitcoin broke the $4,000 benchmark at the weekend and was able to sustain it, as the volume held in naira rose to N1.269 billion.
Data by Coindance, showed that the weekly local bitcoin volume rose from N1.11 billion in the first week of January to N1.269 billion for the week March 16, 2019. The value of Bitcoin, the most popular cryptocurrency had dropped below the $4,000 mark having shed $2,272 over the last six months.
As at yesterday afternoon, the overall cryptocurrency market cap stood at $138 billion, as Bitcoin traded at a price of $4,018 with a market cap of $70.7 billion. Traders said the market is showing minor signs of correction with the top ten cryptocurrencies correcting as little between one and three per cent.
Among the top 10 cryptocurrencies, only Bitcoin Cash (BCH) showed movement with over five per cent gains. At the press time, Bitcoin Cash is trading at $160.21 with a market cap of $2.8 billion.
Over the last three months, the cryptocurrency market has shown major consolidation. Bitcoin too has been trading close to $4,000 levels as several analysts have been predicting the resurgence of the world's largest cryptocurrency. Also, the uncertainty in crypto regulations has kept many wondering as to in which direction the market will swing.
Fundstrat analyst and Bitcoin bull, Tom Lee believe that Bitcoin has almost reached its bottom and is set for the next up-move. However, Lee's predictions have fallen flat in the past with the crypto market showing notorious price movements.
Lee continues his strong belief that there are no further major headwinds and roadblocks for Bitcoin. Moreover, he remains optimistic that the crypto market shall witness "big moves" in the coming few months.