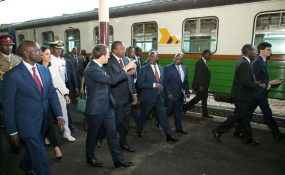 Photo: Samuel Miring'u/Daily Nation
By James Anyanzwa
Kenya plans to build a modern railway line linking Nairobi's Jomo Kenyatta International Airport and the central business district within two years.
A French consortium will build the Nairobi Airport Line; President Uhuru Kenyatta has directed his officials to avoid bureaucracy in signing the agreements.
The commuter rail, complemented by a Rapid Bus Transit System are expected to greatly reduce travel time between JKIA and the city centre.
"A properly functioning urban commuter rail system and Bus Rapid Transit System in our cities, and particularly here in Nairobi, will transform the lives of millions of urban dwellers as well as make Nairobi a wonderful experience for tourists and visitors," President Kenyatta said.
"Our target is to have 500,000 urban commuters moving freely daily within the next 12 months. This number will grow to over a million commuters daily within the next five years."
French President Emmanuel Macron, who was in Kenya on a state visit to attend the One Planet Summit, said he was happy with the increasing partnership between Kenya and France and promised to ensure that the French consortium delivered on the project.
He said France will deepen its partnership with Kenya in security, health and education.
Deals worth deals worth $3.39 billion were signed between the two countries during the visit.
Besides the link between the city and the airport, the government says it will refurbish the whole commuter rail system in the city.
Already, the government has approved Ksh10 billion ($100 million) for the rehabilitation of four existing lines with the heaviest passenger-carrying potential.
These are Nairobi Central Station to Ruiru in the north, Nairobi Central Station to Embakasi Village in the east, Nairobi Central Station to Kikuyu in the west, and Nairobi Central Station to Kitengela in the south.
The investment also provides for the acquisition of refurbished diesel multiple units and the rehabilitation of the meter gauge railway network and the development of new stations as well as the building of a public transport network that straddles Ruiru to Athi River.
In 2012, the World Bank approved a $300 million loan towards Kenya's National Urban Transport Improvement Project, which sought to develop new mass rapid transport systems to reduce traffic congestion in Nairobi and other major cities.
The major components of the project included the expansion and upgrading of highway, service, and access roads from JKIA through Nairobi to Rironi on the Northern Corridor transport system.
It also involved the construction of by-passes in Kisumu in western Kenya and Meru in the east and the building and operation of new rapid bus and rail transport systems to increase the volume and speed of passengers.