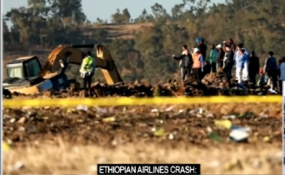 Photo: SABC Digital News/YouTube
opinion
By Jenerali Ulimwengu
The tragedy of Flight ET 302, which crashed on Sunday six minutes after take-off from Addis Ababa on its way to Nairobi, has hit us in this the region with brutal force.
Both Addis and Nairobi are located in our neck of the woods; the passengers between the two capitals are habitually people we have interacted with.
It is heartrending to look at the pictures published in the Nairobi papers showing members of families, some covering three generations, who were coming home for this or that family reunion, killed in an instant.
The pain that is still being felt by those who were waiting at Jomo Kenyatta, or who were still in their villages putting finishing touches on their welcome for their loved ones, is almost too much to imagine.
Kenya has been hit particularly hard, with some32 fatalities, some of whom are the family members I am describing here.
Other countries have also been touched by the catastrophe. The international community, including the United Nations and other humanitarian organisations, also lost an appreciable number of people in that sad, very sad calamity.
It is fitting here to express my sincere condolences to all who have been touched by this heavy loss, and to wish them strength and courage in their hour of irreparable loss.
We may not know the identities of all the victims, especially those who were travelling on duty for their organisations.
The experts are already hard at work, as they would surely be, to try to find out why two planes of the same recent make went down within a space of five months--the first was in Indonesia in October--and so we should soon know if it was caused by an engineering fault or by human error.
I reject outright the suggestion by a reputable broadcasting service that it could be "bad luck," which to me smacks of superstition. There is no such thing as bad luck in such matters.
But we will take the thing in our stride, and life will go on, and people will fly again.
Already by Thursday I was boarding another ET flight from Dar es Salaam to Addis, and although I had ET 302 at the back of my mind, there was absolutely no moment during the preparations leading to my boarding when I thought that it would have been better for me to try driving to Addis, or to try riding a camel there.
A little boy of seven lifted my spirits when I got to Addis. "Uncle," said talkative Abraham, receiving me.
"There is a bad story, then there is a good story." I asked him to tell me the two stories. "The bad story is that the ET flight on Sunday crashed. The good story is that you have arrived safely."
Psychological impact
It has been established beyond any doubt that flight is a safer mode of travel than driving, though it is true that a solitary plane crash creates greater psychological impact than all your little road accidents put together.
Still, the latter kill more people. I think the answer lies in the fact that we know many friends and relatives who have survived motor accidents, but we will be hard-put to say if we know anyone who ever survived a plane crash.
Plus, I do not know how one could live in this world weighed down by the fear of flying.
When I was based in Algiers in my previous life, there was an Algerian minister who suffered a terrible fear of flying. Once when he simply had to lead a delegation to China, he travelled by train through France, Germany, Turkey and on through Russia, to get to Beijing. But he had to precede his delegation by a month.
Air travel is something we have to live with, because it affords us the speed to keep with the exigencies of the modern world, the rat-race economy that makes you toil every moment of your miserable life until you realise you have become old and will soon be dead without anything to show for it. Still, no one is willing to quit that race to nowhere.
Yes, the plane will take you there soonest.
The author is chairman of the board of the Raia Mwema newspaper and an advocate of the High Court in Dar es Salaam.