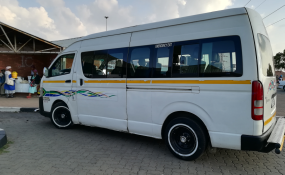 Photo: Zoe Postman/GroundUp
press release
The Minister of Transport, Dr. Blade Nzimande will brief members of the media about the new taxi-scrapping agency that will facilitate the Taxi Recapitalisation Programme on behalf of the Department of Transport.
Since the expiry of the taxi scrapping contract with the previous service provider at the end of September 2018, the department was in a process of procuring the services of a new service provider to assist the department in the implementation of the Revised Taxi Recapitalisation Programme.
As a result, the scrapping of taxi vehicles was suspended since October 2018 pending the appointment of a new service provider.
The department has concluded the procurement process and a new service provider was appointed as from 01 March 2019 to assist the department with the implementation of a Revised Taxi Recapitalisation Programme (RTRP).
The RTRP is built on the strengths and successes of the previous programme and makes valuable proposals on how to broaden the scope and impact of the programme going forward.
The new service provider is in a position to immediately commence with the actual scrapping of vehicles in various provinces.
Issued by: Department of Transport