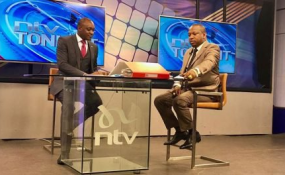 Photo: Nairobi News
opinion
Several readers -- notably Kamichore Mutindira, Edwin Waweru and Margaret Minage -- have complained about the interview of Nairobi Governor Mike Mbuvi Sonko on NTV's 'Sidebar' show. They say it besmirched the reputation of Nation journalists.
Minage, for example, says: "It was shocking and embarrassing watching NTV 'Sidebar' show, with the governor vehemently hurling insults at Nation editors and reporters for covering a story about him."
PUBLIC INTEREST
I agree with them that a guest should not be allowed to throw mud on other people unchallenged, especially if they are not there to defend themselves. But this has to be balanced with freedom of expression and the right to fair comment -- without malice -- on a matter of public interest.
Sonko is a politician. He did his best to defend his reputation. The interview was announced in a colourful full page in the Tuesday Daily Nation with the portraits of 'Sidebar' host Ken Mijungu and Sonko. The same edition carried a front-page headline saying the Ethics and Anti-Corruption Commission (EACC) was investigating Sonko over abuse of office, corruption and unexplained wealth.
"Basically, the Daily Nation is talking about investigating you about unexplained wealth," Mijungu says. "Governor, you have stated previously in this and other channels about the source of your wealth. Years later, it is still being questioned; it means it is not so clear."
Sonko laughs: "Let me laugh first. I have been in the forefront in this war against corruption but I can see the Daily Nation is becoming a gutter press day by day. I am not under investigation by EACC. What I know, there are several cases in EACC whereby I am a complainant."
Wagging a finger, Sonko continues: "I think the Daily Nation should shed more light which officer is investigating me. So, this is a sponsored story. And some of your useless editors are being bribed to fabricate malice."
"You can't prove that?"
"I can prove that."
"That our editors are being bribed to write a story?"
MUCH RAPPORT
"Yes, yes. In fact, even the author of that story today we know where he was, we know who was financing that story.
"So, you are not being investigated?"
"I am not being investigated." For a file to be forwarded to DPP (Director of Public Prosecution), it means the EACC has closed their case. I have not been summoned by the EACC to record any statement."
On the day the story appeared in the Nation, Sonko says he asked EACC why they have not recorded a statement from him if they were investigating him. But they denied they were investigating him. In writing that kind of a story, Sonko says, the Daily Nation should have confirmed with EACC and also contacted him for a comment.
Interviewing is a fine art. Mijungu did a good job establishing a rapport -- may be too much rapport -- with the governor. He started out with a heart-warming remark.
"Right. Nairobi is in his heart," Ken says with a happy smile: "A good place to begin our conversation."
This put Sonko at ease. He was comfortable.
FINEST HOUR
In addition, Mijungu kept the interview open, natural. He let Sonko take the interview into unexpected directions, letting him reveal information not publicly known. The problem, however, is that he let Sonko run away with the interview.
Instead of firmly steering the conversation, he let Sonko ramble on about his hundreds of title deeds, vehicle registration certificates, bank statements and such-like. And the interview that was scheduled to start at 10.05 and end at 11.15 dragged on well after midnight, eating into other scheduled programmes, including 'The Heat' and CNN.
Thus Sonko exploited Mijungu's soft, sympathetic approach. He hijacked the interview. Luckily for the public, he uncovered a lot of new information that informs the public debate about his "unexplained wealth". He even threw down the gauntlet to Nation investigative journalists by saying he would leave copies of the documents he was using for their scrutiny. It was Sonko's finest hour (or two).