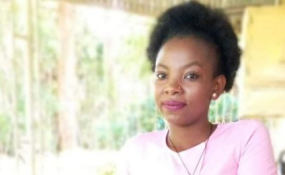 Photo: Nairobi News
By Ndungu Gachane
A 24- year old prison warder in Murang'a, described by her friends as a "beauty queen who loved partying", has been found murdered with several stab wounds in her stomach, chest and head.
Murang'a County Police Commander Josphat Kinyua Wednesday said the woman could have been killed on Monday on night, adding that her failure to report on duty prompted the management of Murang'a GK Prison to start looking for her and they found the body in her rental house in Kiharu estate.
He said the body had started decomposing when it was found on Wednesday morning.
LOVE GONE SOUR
The police boss said investigations to establish the cause of her death have started although preliminary investigations revealed that it could be a love affair gone awry.
"We have started investigations to establish the cause of the death of the prison warder although by the look of things, it appears that it could be love gone sour," he said.
He said there has been an increase in murder incidents in the country especially among the youth and advised them to seek alternative dispute resolution mechanisms instead of killing each other.
NOTIFY FAMILY
He said that they were in the process of notifying the family of the warder and could, therefore, not disclose her name.
A female officer who was a friend to the woman told the Nation that the 24-year old was a "party queen" who loved carousing sand had many male friends.
The warder was described by her colleagues as a beauty queen who loved going out whenever she was not on duty.
"She was very beautiful, likable and very social; she liked partying and had lots of male friends whom she went out with in local clubs. She had served as a warder for three years and had celebrated her 24th birthday on April 20," a friend who sought anonymity told the Nation.