Kigali, Rwanda — Today, Entrepreneurial Solutions Partners (ESP), in partnership with the Mastercard Foundation and Equity Bank Rwanda PLC, announced the creation of a COVID-19 Recovery and Resilience program, to support small and medium enterprises (SMEs) in the Tourism and Hospitality sector.
The Komeza program, with Equity Bank Rwanda PLC as the financing partner, will provide the right combination of financial support and technical assistance to 120 SMEs, at all stages of maturity, plus their value chains, within the Tourism and Hospitality sector. The program has been established through a commitment of US$2.5 million from the MasterCard Foundation COVID-19 Recovery and Resilience Program.
While the Government of Rwanda continues to do the important work of managing the public health crisis, it is clear that the economic and social impact will be far reaching. In addition, the Government of Rwanda re-opened tourism activities across the country, promoting domestic tourism as global travel restarts with commercial flights expected to resume on 1st August.
Rwanda Development Board's Chief Tourism Officer, Belise Kariza said, "Rwanda's tourism industry is adapting to create a safe environment for travelers and operators, in order to thrive in these unprecedented times. We are working with the health authorities to ensure all tourism activities resume seamlessly. The Government of Rwanda is committed to supporting private sector growth in the middle to long term."
Over the next year, the Komeza program will provide technical assistance and financing of up to US$50,000 per SME with support from Equity Bank Rwanda PLC. Incubation support will be provided to 60 start-ups through ESP's Tourism Inc program and 50 established SMEs will benefit from the Komeza accelerator program. A further 10 businesses will be selected for the program through a special innovation stream that will focus on building and financing growth plans to increase their resilience and mitigate the impact of the crisis. The SMEs and start-ups participating in the Komeza program will receive technical assistance, access to grants, and guidance on debt restructuring.
"At ESP, our programs are built to deploy the right mix of technical tools and financing to support entrepreneurs on their journey to sustainability. We understand the challenges faced by entrepreneurs and have designed the Komeza program to help them navigate this pandemic while continuing to grow their business," said Charity Kabango ESP, Co-Founder and Director.
Tourism has been identified as a priority sector for Rwanda to achieve its development goals. It is also one of the sectors that has been hardest hit by the COVID-19 pandemic.
The Mastercard Foundation COVID-19 Recovery and Resilience Program will expand access to financial services for micro, small, and medium enterprises, so that businesses can withstand the economic effects of the pandemic.
"It will be a long road for entrepreneurs as they fight to recover from the COVID-19 crisis. We are committed to supporting them every step of the way with the tools and resources they need to stay in business. We believe that the right combination of financial support and technical assistance will be key to helping these entrepreneurs, not only survive the crisis, but thrive beyond it and emerge resilient," said Rica Rwigamba, Country Head, Rwanda at the Mastercard Foundation.
"We will continue to offer competitive financing solutions, with a dedicated and qualified team to support businesses for resilience and growth," added Hannington Namara, Managing Director, Equity Bank Rwanda.
As a young woman entrepreneur in the Tourism and Hospitality sector, a program like Tourism Inc. is invaluable to acquire the important skills and knowledge to help grow my business despite the current climate," said Peace Umutoni, a participant in the Tourism Inc. program.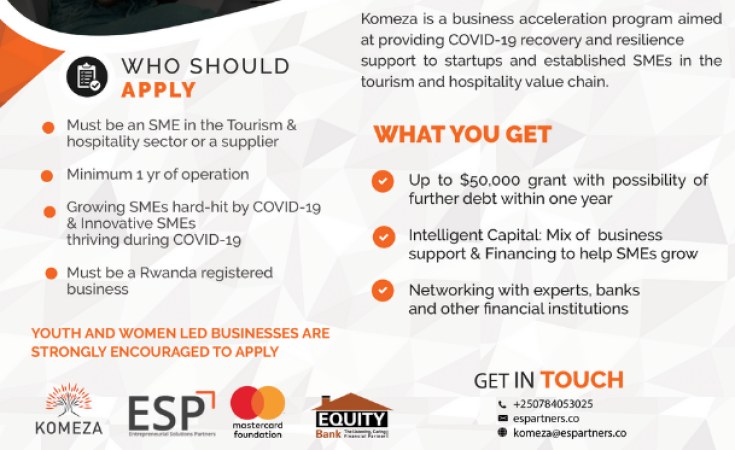 ESP will be hosting an online information session on July 30, 2020 to provide interested Tourism and Hospitality entrepreneurs with further details on the program. Please click here to apply bit.ly/KOMEZA
More information on the session and on the program will be available on the ESP website: espartners.co. You can also reach out to us via email on komeza@espartners.co and through social media using the following handles:
IG: @thisiskomeza
FB: @thisiskomeza
Media Contacts
ESP
Charity Kabango, Co-founder and Director
Tel:+16478337496
Email: ckabango@espartners.co
Equity Bank Rwanda PLC
Dianah Mukundwa, Head of Strategy & Business Analyst
Tel: +250788309780
Email: dianah.mukundwa@equitybank.co.rw
Mastercard Foundation
Nicolas Emane, Partner, Program Communications
Telephone: +250 783 720 809
Email: nemane@mastercardfdn.org
About Entrepreneurial Solutions Partners
Entrepreneurial Solutions Partners (ESP) aims to enable innovative, scalable, and profitable enterprises to build prosperity. Our mission is "to foster entrepreneurial solutions for prosperity." ESP enables people, firms, institutions, and nations to articulate and implement solutions to their economic challenges.
ESP's approach is to provide Intelligent Capital™—the right combination of insights and capital—to address critical societal issues. We provide consulting and strategy advisory services to diverse clients, including governments, businesses, and development partners in Africa. We support innovative models and provide leadership training and entrepreneurial boot camps. With offices in Abidjan and Kigali, ESP has been in operation since 2011.
For more information, visit www.espartners.co and follow ESP at @ent4prosperity on Twitter
About Equity Bank Rwanda PLC
Equity Bank Rwanda PLC exists to transform the lives and livelihoods of our people socially and economically by availing them modern, inclusive financial services that maximize their opportunities. To this aim they offer inclusive, customer focused financial services that socially and economically empower our clients and other stakeholders. The bank commenced its operations in October 2011 and has since opened 14 branches and serves a large number of SMEs across the country. It is a subsidiary of Equity Group Holdings Plc, which has other banking subsidiaries in Kenya, Uganda, South Sudan, Tanzania and Democratic Republic of Congo (DRC).
For more information, visit https://rw.equitybankgroup.com
About the Mastercard Foundation
The Mastercard Foundation works with visionary organizations to enable young people in Africa and in Indigenous communities in Canada to access dignified and fulfilling work. It is one of the largest, private foundations in the world with a mission to advance learning and promote financial inclusion to create an inclusive and equitable world. The Foundation was created by Mastercard in 2006 as an independent organization with its own Board of Directors and management.
For more information on the Foundation, please visit: www.mastercardfdn.org