Washington, DC — In the midst of tributes to John Lewis for his vision and courage in driving the country toward civil rights for black and brown people through non-violence, two other achievements come to mind: his relentless recruitment of young people to join the movement and the intentional integration of African independence struggles into the core mission of the movement.
Nurturing young people was John's signature commitment, from his initial involvement in the movement to his last days in Congress. Throughout the turbulence of the sixties he trained, nurtured and conscientized a generation of college student activists.
I was a sophomore at Chatham College, a small women's liberal arts college in Pittsburgh, when John swept on to campus in March 1964. As chairman of the Student Nonviolent Coordinating Committee (SNCC) he was on a mission to recruit northern college students to join the movement as Freedom Riders in Mississippi the coming summer.
When he stepped on the stage his coiled energy filled the auditorium. Seven months after his galvanizing "impatience" speech at the 1963 March on Washington, and unbowed by more than 20 arrests and multiple beatings, John exuded conviction, urging us to "Get in and stay in the streets of every city, every village and hamlet of this nation until true freedom comes, until the revolution of 1776 is complete."
He was an American patriot, challenging each young woman in the room to join the movement to make her country better. We could relate to him because he was just a few years older, a role model who demonstrated what was actually possible, not just theoretical.
He convinced me that I needed to go south for the summer and join the movement. But first I had to get parental permission--and that became a major obstacle because my mother wasn't about to let her beloved Black only child go south where civil rights workers of all ages and color were getting killed.
Enter Reverend James Robinson, a charismatic black Presbyterian minister and founder of Operation Crossroads Africa, a young organization pairing American and African college students to work in newly independent African countries, finally free of European colonialism. Reverend Robinson was visiting Chatham to recruit students for Crossroads' 1965 summer program.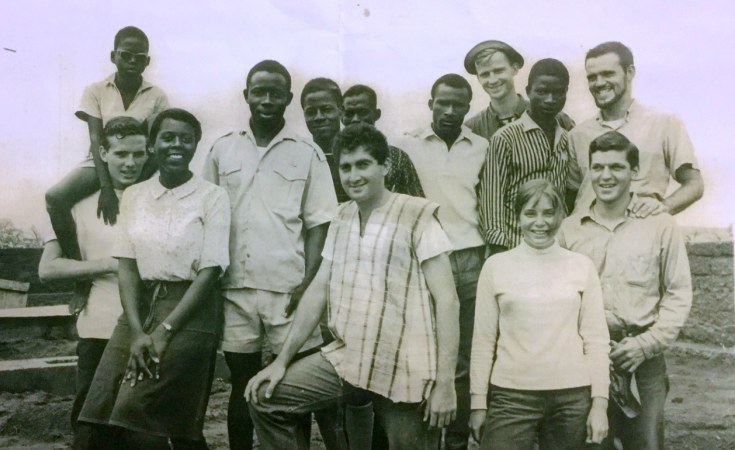 Lewis and Robinson were counterpoints: the African countries' new independence reinforced the determination of the American civil rights movement leaders of the urgency and justness of their demands for similar freedom in the U.S.
Armed with the Crossroads option, I went back to my mother and negotiated. She relented and I spent the summer of 1965 in northern Cote d'Ivoire learning about nation-building and community organizing in a new nation, while working with African counterparts to build a youth center in the small Muslim village of Napierolodougou.
I thought of John Lewis a lot that summer as I continued to monitor the advances of the U.S. civil rights movement and its determined battle for voting rights.
I realized that he was a master strategist, that by linking newly independent African nations to U.S. struggles he was giving fresh energy to both movements, while, at the same time, nurturing and motivating a generation of young Americans determined to affect social change.
Seeing the two efforts launched my lifelong effort to connect and strengthen the linkages between Africans and Americans. The movements' parallels were striking: similar struggles and similar oppressors.
SNCC had incorporated the anti-apartheid movement in its very founding documents. Its 1960 charter declared, "We identify ourselves with the African struggle as a concern for all mankind." And in his 1963 speech at the March on Washington John had proclaimed, " 'One man, one vote' is the African cry. It is ours too. It must be ours!" The phrase "One Man. One Vote." was borrowed from the Zambian independence movement.
The two movements also shared a willingness to forgive. Nelson Mandela and Archbishop Desmond Tutu practiced Ubuntu, an African philosophy of humanity towards others, forgiveness and grace. John, with a steadfast commitment to non-violence after some others in the movement had changed tactics, spoke of "the power and the discipline of nonviolence…to have the capacity to forgive and move on."
When I next saw John he was associate director of ACTION, the federal public service agency hosting Peace Corps and VISTA, and we reflected on major civil rights gains in the intervening years.
John maintained his interest in Africa after he was elected to Congress in 1987, occasionally attending programs of the Africa American Institute (AAI), then the premiere Africa-focused NGO fighting apartheid, strengthening African democracy and offering graduate education opportunities for rising African leaders. When I became president of AAI, I thanked him for his support, noting how he continued to inspire generations of Africans.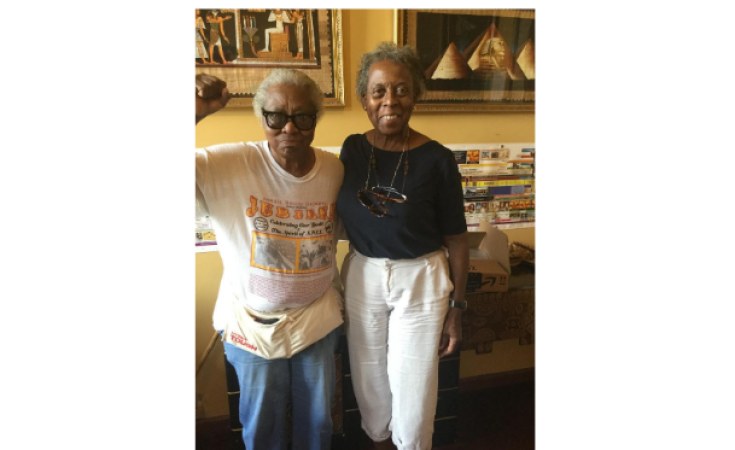 Nelson Mandela confirmed that inspiration when he and John met at Blair House in 1994. John later marveled that Mandela knew every detail of his struggle and triumph and detailed how his story had fortified him and other South African freedom fighters.
John's commitment to Africa continued throughout his life. He helped African issues gain welcomed media attention with his arrests outside the South African Embassy for protesting apartheid and brought further media spotlight through his arrests outside the Sudanese Embassy in 2006 and 2009 for protesting genocide in Darfur.
Although I saw John many times over the years, I never told him the enduring impact of his Chatham visit and his outsize role in shaping the core values of those 500 women, later generations of students and the institution itself.
One of John's last public outings was a trip with DC Mayor Muriel Bowser to see Black Lives Matter Plaza. I can see his smile and imagine their conversation about freedom of assembly, the June 1 indefensible use of federal agents against unarmed peaceful protesters across the street from the White House, and the alarming use of unidentified camouflaged federal forces to arrest peaceful, unarmed U.S. citizens in Portland, Oregon and other U.S. cities.
I only wish that I could have told them that Muriel was a Chatham graduate, living and governing in the spirit of principled nonviolence and a relentless drive for justice that he had inspired 56 years ago.
Vivian Lowery Derryck is Founder and President Emerita of The Bridges Institute – Strengthening African Democracy through Global Partnerships. She previously served as Assistant Administrator for Africa of the U.S. Agency for International Development, Deputy Assistant Secretary at the U.S. Department of State, Executive Vice President of the National Council of Negro Women, Vice President of the National Democratic Institute for International Affairs, and President of the African-American Institute.
RELATED: Accra Welcomes High-Level U.S. Congressional Delegation