The U.S. African Development Foundation (USADF) is committed to helping women-led enterprises in Africa succeed. The recent accomplishments of Joint Energy and Environment Projects (JEEP) in Uganda demonstrate how USADF's investments can empower women, help bring renewable energy to underserved communities in Africa, and benefit small businesses in the U.S. as well.
JEEP is a non-governmental organization working to combat environmental destruction and conserve natural resources through energy-saving technologies and harnessing solar energy. The fishing industry in Uganda is large and integral to the local economy, and while men dominate the fish-catching aspect, women primarily handle the processing efforts and are the ones who, essentially, make the industry profitable. Producing and exporting fresh fish provide enormous economic gain potential, but a challenge these women face in processing is they often don't have adequate access to electricity and cold storage to preserve fresh fish to sell.
This type of commercial fishing is prevalent in the Ssese Islands of Lake Victoria, located in the Kalangala District of Uganda, which is 40 to 60 kilometers away from the nearest power grid. The Ugandan government currently doesn't have plans to connect these islands to the power needed for workers to properly prepare and sell fish.
JEEP proposed a solution to this problem, and USADF provided the funding to make this goal a reality. USADF awarded a grant of $100,000 to the organization, along with technical assistance from its local implementing partner, Uganda Development Trust (UDET), to improve the prospects of the community around Lake Victoria and, specifically, the women's groups that process the fish. JEEP used the grant funding to provide twelve solar-powered refrigerators and three storage sheds to women's cooperatives in the Kalangala District.
USADF's investment improved access to electricity and cold storage for 490 women as a result of the two-year grant program. This grassroots support of women in Uganda also aligns with the Women's Global Development and Prosperity Initiative (W-GDP), which is "the U.S. Government's first integrated approach to global women's economic empowerment across multiple U.S. Government departments and agencies," according to Rahima Kandahari, on behalf of the U.S. Department of State.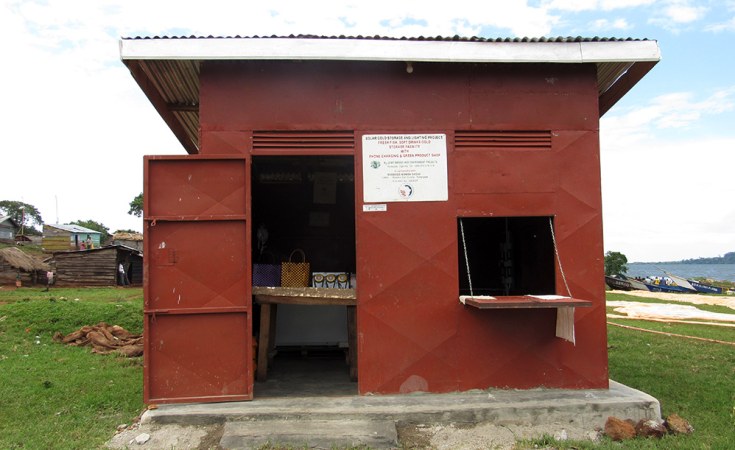 Launched in February 2019, W-GDP will help ensure women have the resources they need to meaningfully participate in and benefit from engagement in the global economy through focusing on entrepreneurship and access to capital, training and workforce development, and encouraging policies, laws, and norms that celebrate women's economic engagement. The work done by USADF with JEEP promotes sustainable women's entrepreneurship in Uganda by providing infrastructure to grow their businesses.
USADF's work with JEEP not only benefits the women's groups and local fishers in Uganda and those now able to purchase fresh fish from Lake Victoria, but it's also beneficial to U.S. businesses. The twelve solar-powered refrigerators JEEP purchased are from SunDanzer, a U.S. company based in El Paso, Texas. SunDanzer manufactures solar-powered refrigerators and freezers for the off-grid market. JEEP purchased $23,000 worth of equipment from the Texas company, and then installed it at the sites of six different women's cooperatives around the Kalangala District.
This business relationship is an example of how the work USADF is doing in Sub-Saharan Africa fits into the U.S. Government's Prosper Africa initiative to increase two-way trade and investment between the U.S. and Africa. Through Prosper Africa, the U.S. is committed to further connecting the private sectors of African countries and the U.S. to support jobs and the growth of private enterprise in Africa and expand the market for U.S. goods in Africa.
In addition to JEEP providing improved infrastructure for cold storage to the six women's groups, the organization also set up a way for each of the groups to offer solar phone charging as an additional service for customers using the SunDanzer refrigerators. These Green Power Units have helped generate increased income for the women in Lake Victoria. From January to March 2019, the combined earnings of the six women's groups from these units alone was $6,857 (25,400,880 Ugandan Shillings). Through the services they offer, JEEP and the women's groups they support have improved access to electricity for 845 people, including 490 women, in an underserved community.