GARISSA, KENYA — AEC Kenya and the Mastercard Foundation Bring Affordable Financing and Business Development to More Than 3,000 Businesses Over the Next Two Years
African Entrepreneur Collective Kenya (AEC Kenya) announces the launch of their new office and program in Garissa County. In partnership with the Mastercard Foundation, AEC Kenya's services will support local businesses in Garissa, Kenya.
Over the next two years 3,000 businesses in Garissa County will benefit from AEC Kenya's advisory services and low-cost investments. Businesses participating in this new program will stimulate larger economic growth within the community, create jobs, and encourage more private sector development.
AEC Kenya currently works in Turkana County and Mombasa, and this expansion to Garissa has been made possible through the Mastercard Foundation's COVID-19 Recovery and Resilience Program, which supports businesses to relaunch or rebuild after being negatively impacted by the pandemic. "We are proud to support partners like African Entrepreneur Collective because of their innovative approaches to creating durable solutions for local businesses operating in refugee-hosting communities. AEC Kenya's approach to providing affordable financing to those who are traditionally excluded from financial services is stimulating further economic development and inclusion," said Daniel Hailu, Regional Head Eastern and Southern Africa at the Mastercard Foundation.
To date, AEC Kenya has disbursed over 1,400 investments, including one-time cash grants for COVID-19 recovery, and boasts a 100 percent investment repayment rate. "Supporting local businesses in Kenya's refugee host communities is crucial to driving wealth creation, economic empowerment, and job creation in areas often dependent on humanitarian aid. Based on our success to date working with businesses in Turkana County, we are excited to open an office in Garissa. We will continue demonstrating that micro, small, and medium enterprises are worthy of investment as they drive much needed private sector growth in our communities," says Job Matseshe, AEC Kenya Managing Director.
AEC Kenya has worked in close partnership with the government and institutional partners including to ensure success and support for their local programs.
"AEC and Mastercard Foundation's commitment to businesses is actually a commitment to families and communities, as the results of these small businesses improve livelihoods across the county. When businesses flourish, communities flourish and we have more jobs and opportunities across our county," Mohamed Sahal, Country Director Partnership and Donor Coordination, The County Government of Garissa.
Last week AEC Kenya kicked-off its Garissa services for an inaugural cohort of 250 entrepreneurs with business training, which will be followed by advisory services and access to finance in the coming months.
Shukri Muhumed, a participant in the first cohort who runs an electronic shop in Garissa town shared his thoughts on the benefits the program will bring, "As a small business owner, I have done the best I can to grow my shop into a sustainable revenue stream. With AEC Kenya's program, I hope to learn additional skills to take my business to the next level. I am also very thankful that AEC Kenya offers Sharia-compliant products so I can access investment opportunities."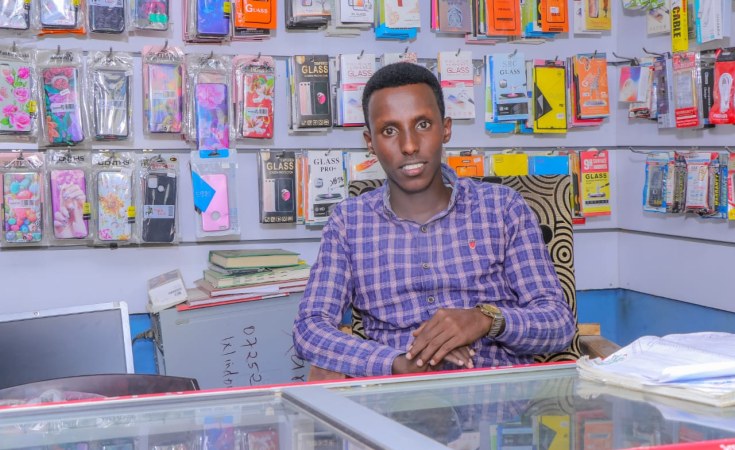 Please tune into AEC Kenya's Garissa launch on Thursday, 17 June, 2021 via social media on AEC's social media channels:
Twitter: @AfricaLeadKenya
Facebook: /africaleadKenya
Instagram: @AEC.Kenya
Media Contacts:
Autumn Marie Faraj:
+1 347 391 8732
press@aec-kenya.com
Diana Moraa:
+254 115 782 557
dmoraa@mastercardfdn.org
About AEC Kenya
AEC Kenya, the Kenyan affiliate of African Entrepreneur Collective, has served the needs of Kenyan businesses since 2019, providing business training, consulting, and access to finance. With 160 staff in 12 offices across East Africa, African Entrepreneur Collective has helped more than 30,000 entrepreneurs run their operations more efficiently and strategically, generating a combined new revenue of $48M USD. On average, businesses in AEC Kenya's program increased their annual revenues by 244%, and created nearly 3,000 new jobs since 2019. For more information, please visit www.africanentrepreneurcollective.org
About the Mastercard Foundation
The Mastercard Foundation works with visionary organizations to enable young people in Africa and in Indigenous communities in Canada to access dignified and fulfilling work. It is one of the largest, private foundations in the world with a mission to advance learning and promote financial inclusion to create an inclusive and equitable world. The Foundation was created by Mastercard in 2006 as an independent organization with its own Board of Directors and management. For more information on the Foundation, please visit: www.mastercardfdn.org