Washington, DC — Newly elected President Hichilema vows to repair eroded democracy and a 'mountain' of debt.

Weeks after his election to lead his southern African nation, Zambian President Hakainde Hichilema vowed to reverse his country's recent erosion of democracy and good governance, and to stabilize an economy in recession—all despite the burdens of COVID, environmental shocks, and a dangerous "mountain" of debt accumulated in recent years.
Hichilema—in Washington for meetings at the White House, World Bank and International Monetary Fund, met current and former senior U.S. policymakers on Africa at USIP in his first visit abroad as president. His election and his declared plan to buttress Zambia's democracy carries implications across sub-Saharan Africa.
Zambia's August election and peaceful transfer of power countered a pattern of recent setbacks for democratic rule in Africa and elsewhere. Africa has seen a resurgence of military coups d'etat —two in Mali and one in Guinea, plus attempted coups in Niger and Sudan and a military-controlled transfer of power in Chad . Zambia, which decades ago replaced single-party authoritarian rule with truly elected governments, suffered a weakening of democracy under the administration of former President Edgar Lungu. Analysts and monitoring organizations such as Freedom House and Amnesty International have documented a long series of state attacks on free speech, dissent and public reporting of corruption since 2016.
"Zambia's presidential elections last month stand out" against the recent reversals for democracy, USIP President Lise Grande told an audience at USIP and online. "For the third time in the republic's history, power changed hands via the ballot box, democratically and peacefully. Zambia's presidential election offers important lessons for Africa and for all of us on the value of strengthening democratic institutions, ensuring political pluralism, expanding the electorate and protecting the vote."
Hichilema told the USIP audience—including U.S. officials, diplomats and journalists as well as Zambians watching on national television, that "as a new government, we are committed to human rights. We are committed to restoring the rule of law… [and] … to fostering democracy." In particular, he said, his government will end restrictions on the press, "because they've been gagged for too long, they've been attacked for too long in their course of duty. … This will be a thing of the past."
Zambia, Africa Face Debt and COVID-19

"We've inherited a very, very challenged economy—a huge debt mountain," Hichilema said. "We have to dismantle this. Because it's taking away resources for development." Zambia's public debt was just under 24 percent of its gross domestic product in 2014, but exploded to 141 percent as of 2020, according to the World Bank. Zambia last year became the first African state amid the COVID-19 crisis to default on its public debt, which analysts have measured in recent years at between $12 billion and $18 billion.
Zambia contracted a quarter of its public debt with China or Chinese entities through "deals shrouded in secrecy clauses," Reuters has reported—a lack of transparency that complicates negotiations for debt relief with the International Monetary Fund (IMF). China has become African nations' biggest bilateral creditor, holding more than 20 percent of the continent's public debt. Chinese lending and investments, with their typical lack of public transparency, has weakened governance, increased corruption or heightened risks for conflict in countries and regions from Myanmar to Pakistan, Nigeria and the Red Sea region, a series of USIP research projects has found.
When Ambassador George Moose, USIP's vice chair and a former assistant secretary of state for Africa, asked what the United States and others can do to better support democratic movements in Africa, Hichilema quickly urged a stronger fight against corruption. A generation of Zambians sacrificed for years, "at great cost," to reduce Zambia's debt to a manageable level, he said, an achievement now reversed. Zambia's previous government re-accelerated borrowing, nominally for infrastructure, Hichilema said, but "the balance sheet was distorted," permitting corruption. Hichilema has said that former officials hid the extent of Zambia's debt and effectively looted the public treasury, and that his government will aggressively investigate "horrifying" signs of stolen state funds. He stressed that corruption investigations will avoid politicized retribution and guarantee those accused due process under law.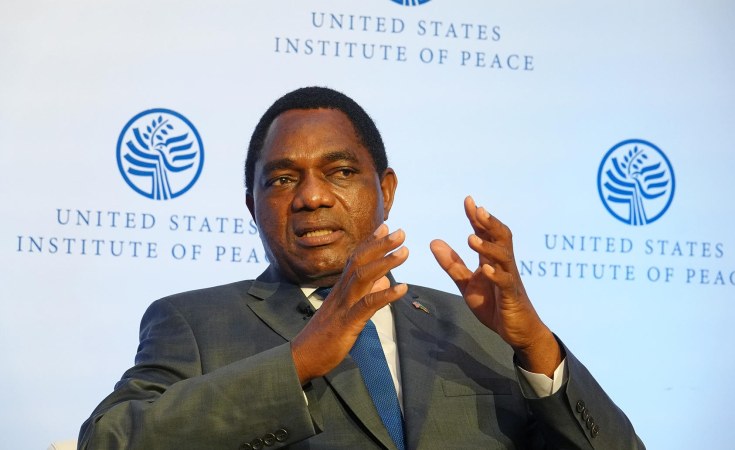 Hichilema said his government will use "common values" such as "constitutionalism, rule of law, human rights, working against vices such as corruption," to shape Zambia's international partnerships. "Who will support us in the fight against corruption?" he asked. "This is where alignment to values will be durable," he said.
We know that if we do not bring COVID under control, we have no chance in hell to revive the economy.
COVID-19 "has not helped our situation or indeed … other countries'," Hichilema said. "We know that if we do not bring COVID under control, we have no chance in hell to revive the economy." Global cooperation—including help for underdeveloped nations in vaccinating their populations, must be accelerated, he said. "The First World will not have done or achieved much by vaccinating your people and our people are not being vaccinated, because we will become perfect … hosts for mutations" of the virus," he added. "You will not be successful [against the virus] here unless we are successful everywhere."
A Democratic Victory in a Region at Risk

Among U.S. officials Hichilema met at USIP was Dana Banks, a special assistant to President Biden and the National Security Council's senior director for Africa. Sitting next to Hichilema onstage at the Institute, Banks told him that Zambia's successful election "and what you have done so far, even, exemplifies what the Biden-Harris administration wants to do in terms of promoting democracy." She underscored the U.S. focus on helping nations build more democratic systems, starting with summit conferences on democracy promotion that the White House plans to begin before the end of the year.
The Zambian election and peaceful transfer of power reflects broader evidence that "the demand for democracy in Africa remains very, very strong and that there is an overwhelming desire among people to be able to select their leaders," said U.S. Ambassador Johnnie Carson, a USIP senior advisor and a former assistant secretary of state for Africa. "Polling data out there strongly tells us … that an overwhelming majority of Africans support multiparty democracy, they support term limits for presidents, they're opposed to military coups d'etat and they want governments that are responsive to their people."
As southern Africa confronts converging crises—unemployment and poverty deepened by COVID-19, inevitable destabilizations from climate change and from the global scramble toward a greener economy—Zambia is literally central, landlocked among eight other nations facing their own challenges. Among them:
Insurgency and warfare over mineral resources continues in the Democratic Republic of Congo.
The Islamist insurgency in the north of Mozambique has displaced nearly 700,000 and "is worrying us, I must confess," Hichilema said at USIP.
Angola, which has achieved relative stability since the end of its 27-year civil war, is one of the nations most threatened by an overdependence on oil exports that USIP research shows is likely to become only more dangerous can become only more hazardous as nations shift away from fossil fuels.
In Tanzania, civil society is working to reverse recent years' weakening of human rights protections and build a more inclusive democracy following the accession to office in March of the country's first woman president, Samia Suluhu Hassan. USIP and its Africa Center work with a Kenya-based partner, Sisters Without Borders, in that effort.
Hichilema stressed that a vital antidote to violent extremism is the inclusion of marginalized groups in a democracy, and particularly the engagement of youth. Noting the region's problems, particularly the increased violence in Mozambique, Hichilema underscored that "we are committed to make our … active contribution in fostering peace, stability, security on our continent. This is a top priority," he said.