Washington, DC — When then-Malian Ambassador to the U.S. Mahamadou Nimaga told me that he had asked the Malian government to honor my decade of working with Malians and other supporters to restore and strengthen Malian democracy, I thanked him and continued our conversation on Islamist incursions and militias. When, after the August 2020 coup, he said that the honor was still in the works, I thanked him again and continued our conversation about MINUSMA.
Only when I was notified that the certificates for the three honorees - Chic Dambach, Mel Foote and me - had reached Washington and embassy officials were searching for a date to present us with the awards, did I begin to really focus on the honor. But I didn't realize the full import of being honored as a Knight of the National Order, Mali's highest honor for a foreign national, until the occasion itself, a formal, dignified event at the Malian Embassy in late October.
As both countries' national anthems played, I reflected on the work done in Mali through Bridges - the NGO that I launched in 2009 to help strengthen African governance and democracy - and our partners over the past nine-plus years. Five thoughts kept tumbling through my mind.
Civil Society Validation
Above all, for me the award was a validation of the pivotal role civil society can play in affecting democratic change. Witness the power of Sudanese civil society to basically reverse a military power grab. But the space for civil society is shrinking globally, with non-governmental groups from Myanmar to Belarus to the Philippines being silenced, so this acknowledgement of a decade's work with a dedicated, robust civil society group was a welcome antidote to global setbacks for citizen activists.
Spotlighting African Crises
The award was a strong affirmation of both Bridges' methodology of organizing civil society 'Watches' when African democracies are in crisis and the methodology's flexibility.
The Watches are a short-term effort to bring together civil society, including nationals of the country residing in the United States., the country's ambassador in Washington, DC and senior U.S. officials. The group pinpoints various stakeholders, examines the causes of the conflict, and then discusses various U.S. policy options.
The Watch collectively determines what constitutes a return to democratic governance, at which time the watch is ended. As far as we know, the process is unique. No other government regularly meets with a diverse group of citizens - civil society at its best—and hears a rich mix of perspectives as added factors to consider in formulating a country or region-specific foreign policy.
This approach produces results because it is an intense but limited time commitment and because partners in the Watch have both deep expertise and a strong presence in the country. Mali expanded the methodology to multiple phases and added the possibility of a permanent country-specific affinity group.
Mali Watch was launched after the March 2012 coup in partnership with the Alliance for Peacebuilding. Our goal was straightforward: to help restore democratic governance to Mali. We observed the 2013 election and marveled at Malian capability to organize and execute a textbook free and fair election in a matter of months.
With the election over it was time to conclude Mali Watch. But Watch members, noting that Mali's democracy was precarious, decided to transition to 'Mali Moving Forward', adapting the process to focus on post-conflict reconstruction. After two more years the group concluded that they were committed to a permanent monitoring and advocacy for Mali; so the 'Mali Affinity Group' was formed to offer a range of activities related to restoring democracy.
Diasporas Reinforced
The award I received reinforced an essential component of Bridges' mission: to partner with the African Diaspora to spread democratic precepts and principles. Diasporas are usually discussed in terms of remittances and their outsize impact on a country's national budget, but an active diaspora also can fashion a narrative on the situation in the home country.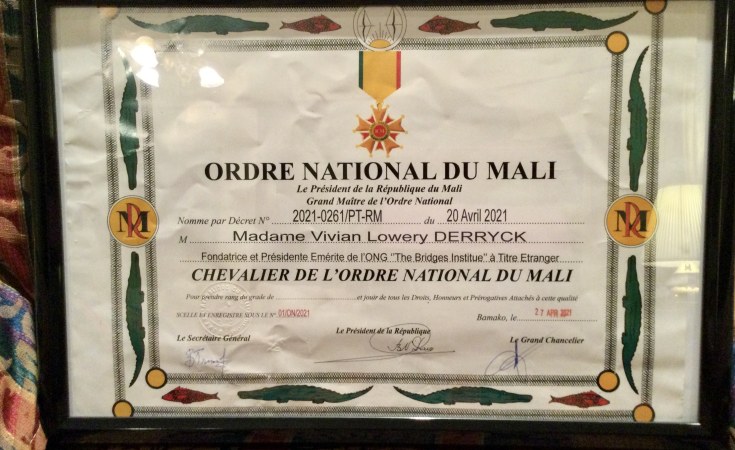 The Malian Diaspora in the U.S. has been important in maintaining visibility for the country in U.S. foreign policy circles and growing the Mali constituency. Taking a page from U.S. civil society, Malian-Americans have been visiting their Members of Congress for at least the past five years.
Facebook postings on the ceremony also expanded Mali's U.S. constituency, and the fact that two Black Americans were being knighted reinforced the diaspora connection. That was certainly the case in my hometown of Cleveland, Ohio, with the visual of a Black woman from the Midwest being honored by a fabled African country.
National Narratives
As the date for the ceremony approached, I began to think of the greatness of historical Mali, its legendary leader, Mansa Musa, and the importance of national narratives.
For me, the Mansa Musa narrative - a great and visionary Malian leader whose Hajj spread the fame of Mali in the known world of the fourteenth century and built Timbuktu and Gao into centers of Islamic scholarship - needs to be lifted up, taught in history classes across the nation and generally shared widely across the continent and beyond. It's a counter narrative to Africa as a disease-laden, conflict-riddled and poverty-laced continent.
That counter narrative has parallels with the U.S." Lost Cause" narrative, which promotes an inaccurate history of the U.S. civil war. These false narratives can be invidious as they shape perceptions of capacities and competencies of whole groups of people and can lead to damaging distortions in policy decisions. Both counter narratives need to be dispelled and repudiated.
Foundational Institutions of Democracy
I commend Mali, because receiving the award from an interim government brought to power by two coups is a testament to the continuity and tensile strength of Mali's fundamental institutions of government.
The circumstances reminded me of the January 6 assault on U.S. democracy. The world is watching how we Americans handle the aftermath, underscoring the importance of having a full record documenting all aspects of the insurrection and steps taken to strengthen our democracy to guard against future assaults. Democracy is hard to establish and harder to maintain.
On Becoming a Knight
In a quiet moment after the ceremony, I looked at the medal symbolizing my knighthood and further reflected. Knighthood brings responsibility: to love justice, to be courageous, to speak truthfully, even when raising uncomfortable issues, and to be merciful, searching for common ground and promoting peace.
So I thank the Republic of Mali for this extraordinary honor and I pledge to continue our partnership and dialogue with civil society, to advocate for robust support for security and sustainable development initiatives in Mali and the broader Sahel, and to work with Malian colleagues and other partners to find common ground and to strengthen the institutions that will enable a return to democratic governance that reflects the majesty of ancient Mali.
Vivian Lowery Derryck is Founder and President Emerita of The Bridges Institute – Strengthening African Democracy through Global Partnerships. She previously served as Assistant Administrator for Africa of the U.S. Agency for International Development, Deputy Assistant Secretary at the U.S. Department of State, Executive Vice President of the National Council of Negro Women, Vice President of the National Democratic Institute for International Affairs, and President of the African-American Institute.
RELATED: A Tale of Two Elections - Mali and Zimbabwe at the Crossroads