Addis Ababa, Ethiopia — Dereja, in partnership with the Ministry of Labor and Skills (MOLS) and the Mastercard Foundation, is hosting a series of career expos in five public universities to connect recent graduates with employers across the country. The expos are being hosted at Addis Ababa, Haromaya, Hawassa, Jimma, and Bahir Dar Universities between June and August 2022. They serve as an offline employment linkage platform that helps graduating students secure jobs before their graduation.
The first set of expos held in June brought together a total of 2,000 students and 80 employers, including Heineken Breweries share company, Enat Bank, Huawei International, Save the Children International, People in Need, World Vision Ethiopia, and Unilever Manufacturing PLC.
Earlier today, an annual career expo was held in Addis Ababa at the Addis Ababa University Sedist Kilo Campus. Over 70 national and international companies were represented at the event, including the National Electoral Board of Ethiopia (NEBE), The United Nations Office for Project Services (UNOPS), Habitat for Humanity, Ahadu plc, Horra Trading, Care Ethiopia, Commercial Bank of Ethiopia, Micro Pharma plc, and EthioChicken. More than1,500 graduates attended.
Students find it difficult to secure jobs after their graduation, as most of them graduate with little or no awareness of the job market or the skills required. To fill these gaps, Dereja provides employability skills training to young people that helps prepare them for the world of work. These career expos are preceded by a job fair clinic, which takes place one month prior to the expos. Through these clinics, students are trained to write a Curriculum Vitae (CV) and application letter, prepare for job interviews, and understand how to search for work. They also gain a better understanding of their strengths and how to present themselves to employers.
Binyam Elias is a 2022 Electro-Mechanical engineering graduate. He is one of the hundreds of students who attended the 2022 annual career expo at Hawassa University. He submitted his CV to several companies that attended the expo and is excited about the possible opportunities. "This to me is an opportunity unlike any other," he said. "Not only do I get the chance to submit my CV to different companies that would otherwise be far from my reach, but I can also find several of them at the same place. I have submitted all copies of my CV and I am hopeful about getting a job."
For employers, these job fairs serve as an effective platform to quickly recruit talented students who recently graduated, while minimizing recruitment costs. They also create an opportunity for organizations to enhance their visibility and brand.
Eyerusalem Solomon is from People in Need, an international non-governmental organization. They attended this year's expo to seek out new talent. Eyerusalem says, "People in Need participates in these career expos regularly. We attend job fairs to recruit for different types of positions. This year, we are focusing on our internship program, and are assessing and registering candidates accordingly, which is going very well."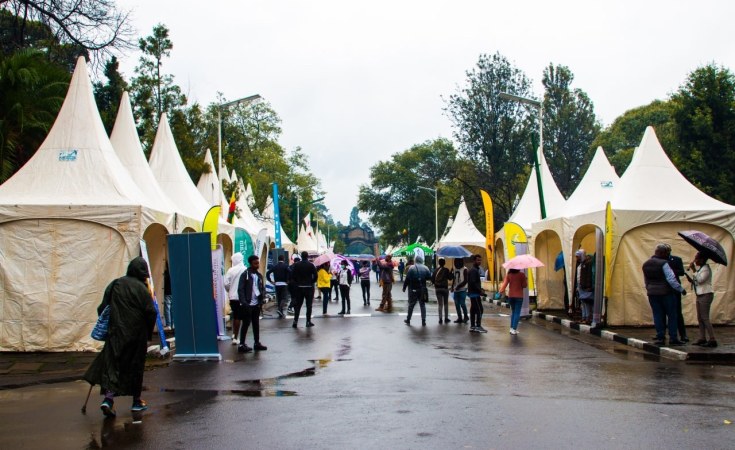 The expos are good for universities, too, helping them build the capacity to host these kinds of large annual events as a service to their students and to employers.
Fisiha Getachew, the Academic Affairs Vice President at Hawassa University, noted that "universities bare the same responsibility as parents when it comes to recent graduates. Our role should go beyond ensuring students finish their studies and leave university campuses. Like any parent, it is also up to us to ensure our graduates are set on the right path and can access the job market and that is why we work so closely with organizations like Dereja."
"For the past four years, we have been working closely with Dereja and the Mastercard Foundation to enable young people to get the right employability skills to ensure their job readiness and to provide them with opportunities to meet potential employers. We have also been working together to build the capacity of universities. Such collaborative efforts will contribute to producing qualified graduates with the skills that meet labor market demands," said Solomon Tadesse, Delivery Assurance, and Capability Building Director at the Ministry of Labor and Skills.
Siham Ayele is the Program Director for Dereja.com. She explained, "over the last five years, Dereja has organized 25 job fairs, trained more the 100,000 (one hundred thousand) graduating students, and facilitated more than 65,000 (sixty-five thousand) new graduates to secure job opportunities. Alongside the Mastercard Foundation, the Ministry of Labor and Skills, and our partner universities, Dereja continues to organize these career expos to bring employers and new graduates face-to-face so that employers can interview the graduates and provide them with job opportunities."
"The Mastercard Foundation seeks to enable 10 million young people in Ethiopia to access dignified and fulfilling work. We want to ensure young people have the skills and access to the right opportunities so they can reach their full potential. Partnerships like Dereja are key to achieving these goals. We hope this initiative is institutionalized within each university system across the country. We want to seamlessly link university graduates with industry actors to ensure timely school-to-work transition, and efficient employee/employer matching,'' said Samuel Yalew Adela, Country Head, Ethiopia at the Mastercard Foundation.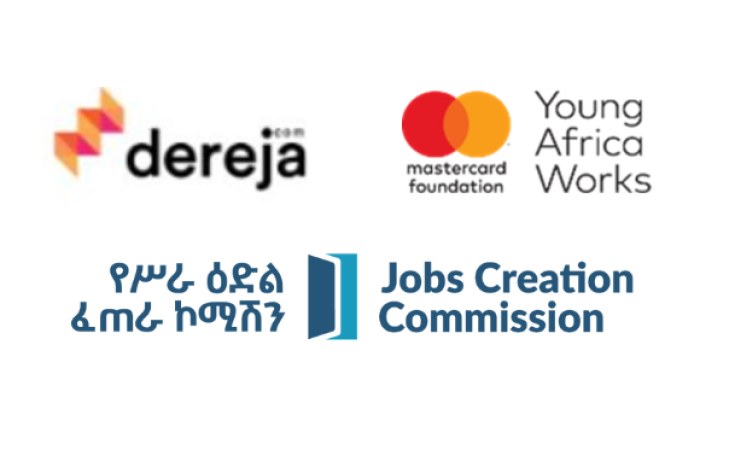 This year's annual career expo will conclude on August 11, 2022, at Bahir Dar University in Bahir Dar.
About Ministry of Labor and Skills
F.D.R. E's former Jobs Creation Commission, the Ministry of Labor and Skills under its current structure, is an institution established in 2018 under Council of Ministers Registration number 435/2011 and is accountable to the Prime Minister of F.D.R.E. The Ministry is responsible for administering, collaborating, and overseeing job creation agendas throughout all sectors. To ensure the creation of sustainable jobs, the Ministry plans on facilitating and assisting the creation of 14 million jobs in 2025, and 20 million jobs in 2030. For more information. Please visit www.jobscommission.gov.et
About the Mastercard foundation
The Mastercard Foundation works with visionary organizations to enable young people in Africa and in Indigenous communities in Canada to access dignified and fulfilling work. It is one of the largest, private foundations in the world with a mission to advance learning and promote financial inclusion to create an inclusive and equitable world. The Foundation was created by Mastercard in 2006 as an independent organization with its own Board of Directors and management. For more information on the Foundation, please visit: www.mastercardfdn.org
About Dereja.com
Dereja.com is the business unit of Info Mind Solutions and was established in 2009 to solve youth unemployment issues in Ethiopia. Dereja provides training to recent graduates that helps them improve their employability skills, thereby serving as a bridge between the young graduates and employers.
In the course of working with young people, Dereja has provided more than 100,000 (one hundred thousand) new graduates with employability skill training, established 16 career centers in government universities, and organized a total of 23 job fairs. These events have facilitated a total of 60,000 (sixty thousand) new graduates to be employed.
For more information, please visit www.Dereja.com
To register for the expo, go to www.careerexpo.dereja.com
Media Contacts:
Ministry of Labor and Skills
Solomon Tadesse Debebe: Delivery assurance, and Capability Building Director
Tel: +251 914033547
Email- solomon.debeb@jobscommission.gov.et
Infomind Solutions(Dereja)
Monalisa Haile: Communication and Marketing Manager
Tel:+251 949482089
Email: Monalisa Haile monalisa@ethiojobs.net
Mastercard Foundation
Simret Yasabu: Lead, Program Communications, Ethiopia
Tel: +251 988805766
Email: syasabu@mastercardfdn.org