Large Turnout for US-Africa Business Summit 2011
The Corporate Council on Africa, whose members include the largest U.S. firms doing business in Africa - along with many smaller companies - convened a U.S. Africa Business Summit earlier this month in Washington, DC. The event drew nearly two thousand participants, including many business and government leaders from Africa. Among those who address the gathering were the ranking Democratic and Republican members of the U.S. Senate Africa Subcommittee, Chris Coons (D-Connecticut) and Johnny Isakson (R-Georgia), as well as White House chief-of-staff William Daley.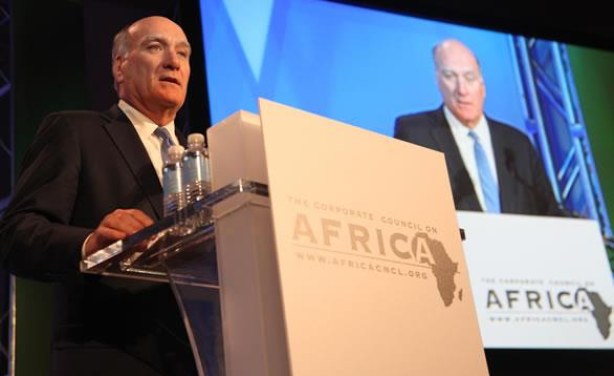 "Africa is the last global economic frontier." White House Chief of Staff, Bill Daily applauds American companies doing business in Africa.
Photo Essay
Picture 1 of 12

The focus for this year's Summit was to spotlight the key sectors in which Corporate Council on Africa members feel Africa presents its greatest case for business: agribusiness, energy, power, health, ... see more »
Namibia: Geingob Leads SME Team to U.S.A

Namibian, 17 October 2011

THE Minister of Trade and Industry, Hage Geingob, has led a small team of Namibian SMEs and youth leaders on a trade and investment mission to the US. Read more »

Zimbabwe: Old Mutual Seeks Fair Riozim Debt to Equity Swap

Zimbabwe Independent, 13 October 2011

OLD Mutual Ltd is not opposed to RioZim debt conversion but wants the conversion done fairly. Zimbabwe Independent business reporter Wongai Zhangazha(WZ) spoke to Old Mutual Group… Read more »

Zimbabwe: U.S. Ambassador Backs Empowerment

SW Radio, 7 October 2011

US Ambassador Charles Ray has this week voiced his support for empowerment plans in Zimbabwe, while encouraging foreign investment in the country. Read more »

Zimbabwe: Calls for Lifting of Sanctions a 'Political Game'

SW Radio, 10 October 2011

Calls are intensifying for the lifting of targeted 'shopping' sanctions still in place against the Robert Mugabe regime, despite ongoing human rights and governance concerns in the… Read more »

Nigeria: Arik Air Orders Two Boeing 747-8 Intercontinental Airplanes

Leadership, 9 October 2011

In a bid to further boost their air business, Arik Air Nigeria and Boeing [NYSE: BA] have announced a deal for two 747-8 Intercontinental airplanes. The order which is valued at… Read more »

Zimbabwe: Private Business Sector Calls for Removal of Targeted Sanctions

Zimbabwe Standard, 8 October 2011

THE Zimbabwe private business sector has told the World Bank and the US State Department that sanctions targeted at certain individuals in the country should be removed as they… Read more »

Nigeria: Arik Orders Two Boeing 747-8 Intercontinental Planes

This Day, 8 October 2011

As part of its policy to keep pace with the rapid growth in air travel in Africa, Arik Air on Thursday ordered two Boeing 747-8 Intercontinental airplanes to be used on its key… Read more »

Zimbabwe: U.S. Softens Stance On Country

Zimbabwe Independent, 6 October 2011

THE US ambassador to Zimbabwe Charles Ray said the local economy was on a serious recovery path and has encouraged American businesses to carry out proper research and invest in… Read more »

Nigeria: FG Intensifies Investment Drive in U.S.

This Day, 4 October 2011

Three Ministers, Prof. Barth Nnaji (Power), Dr. Olusegun Aganga (Trade and Invest-ment) and Dr. Akinwunmi Adesina (Agriculture and Rural Development) will today intensify Federal… Read more »