South Africa Apologises After Deportation Row
The South African government has sent a letter of apology to the Nigerian government after the "regrettable" deportation of 125 Nigerians who allegedly had irregular Yellow Fever vaccination certificates. South Africa's department of foreign affairs has issued a statement saying that the government believes the incident "could have been handled better".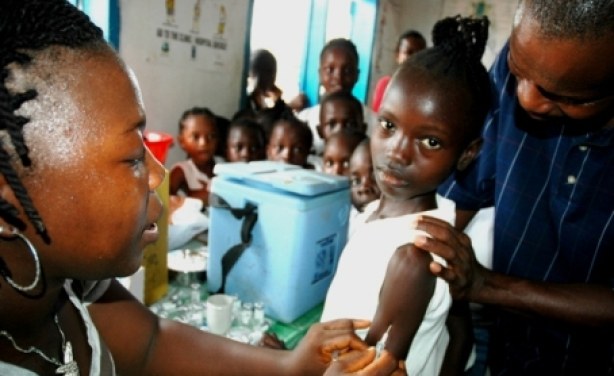 A health worker administers a yellow fever vaccine (file photo).
Nigeria: 'South Africa Using Yellow Fever to Embarrass Country'

Daily Trust, 8 March 2012

A mission by then President Olusegun Obasanjo to attend the inauguration of newly-elected South African President Thabo Mbeki was almost aborted at the last minute because of a row… Read more »

Africa: Gloves Come Off in SA and Nigeria Diplomatic Feud

Daily Maverick, 8 March 2012

The gloves have come off in an unseemly diplomatic row between South Africa and Nigeria. The sorry saga began when South African officials at OR Tambo International Airport… Read more »

Nigeria: Mixed Reactions Greet Diplomatic Row

Vanguard, 8 March 2012

Mixed reactions greeted the diplomatic row with a host of groups asking Nigerians to boycott South African goods and services as MTN and DSTV in retaliation. Read more »

Nigeria: South Africa Refuses to Apologise for Deportations - Report

Vanguard, 8 March 2012

An end to the raging diplomatic row between Nigeria and South Africa kick-started by the latter's deportation of 125 Nigerians, including a serving senator over alleged possession… Read more »

Nigeria: Nigeria-South Africa Standoff - CPC Wants Foreign Policy Overhaul

Daily Trust, 8 March 2012

Following the diplomatic row between the Federal Government and South Africa over deportation of some Nigerians, the Congress for Progressive Change (CPC) has called for a total… Read more »

Nigeria: CPC Faults Repatriation of 125 Citizens From South Africa

Leadership, 8 March 2012

The Congress for Progressive Change, CPC, has faulted the deportation of 125 Nigerians from South Africa on the excuse of possessing questionable yellow fever vaccine certificate. Read more »

Nigeria: Govt Plans Action Against South Africa Over Deportations

The Moment, 6 March 2012

THE Federal Government is considering tougher reciprocal action against South Africa for deporting 128 Nigerians at the weekend for being in possession of fake yellow fever cards. Read more »
InFocus
Nigeria has launched tit-for-tat expulsions of South Africans in a row over vaccination certificates. Read more »