Senegal: Voters Choose Macky Sall over Incumbent
A calm voting process saw opposition candidate Macky Sall defeat President Abdoulaye Wade in a second round of voting. After preliminary results came in, Wade called Sall to congratulate the former prime minister and National Assembly leader on his victory.
Senegal: A New Generation Takes Over

RNW Africa, 26 March 2012

At 51, Macky Sall is Senegal's fourth president. Will he usher in a new style of government? Read more »

Senegal: Statement By U.S. Secretary Clinton on Presidential Elections

State Department, 26 March 2012

Yesterday, the people of Senegal exercised their rights and made their voices heard through a peaceful, democratic election. This election was an important step forward for… Read more »

Senegal: This Is Senegal's New President

RNW Africa, 26 March 2012

Macky Sall's political career appeared to have peaked under Abdoulaye Wade, where after serving as prime minister he fell from favour. On Sunday however, he replaced his former… Read more »

Senegal: Statement by President Obama on Presidential Elections

White House, 26 March 2012

I congratulate Macky Sall on his victory in Senegal's presidential elections. Domestic and international observers report that the election was carried out transparently, freely,… Read more »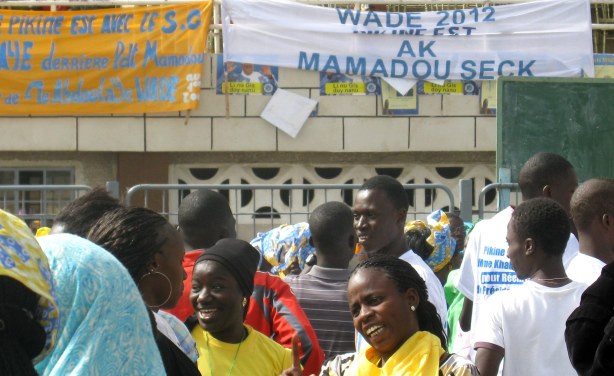 Wade supporters in Pikine (file photo).
Video
Publisher:

Al Jazeera

Publication Date:

25 March 2012

Supporters of lead rival Macky Sall celebrate in Dakar's streets as the president admits a polling loss. see more »
InFocus
Macky Sall a remporté le 25 mars l'élection présidentielle au Sénégal en battant au second tour son rival Abdoulaye Wade. C'est la fin de douze ans de pouvoir pour le ... Read more »
Senegal: High Stakes in Sunday's Presidential Vote

African Arguments, 23 March 2012

On March 25, Senegal will go to the polls to choose between the incumbent president bent on seeking a third-term and his former Prime Minister Macky Sall. Read more »

Senegal: Voters Return to the Polls on Sunday

allAfrica, 23 March 2012

Senegalese voters return to the polls on Sunday for the second round of voting in the presidential election, after campaigning closes at midnight on Friday night. Read more »

Senegal: Lessons of Electoral Integrity

ISS, 6 March 2012

On 26 February, Africa held its breath as Senegalese went to the polls to elect their president. The controversy over the incumbent Abdoulaye Wade looked set to end in yet another… Read more »

Senegal: Presidential Elections - a Missed Opportunity

Fahamu, 22 March 2012

The stakes of the elections of 26 February 2012 and March 18, 2012 concern the whole of West Africa and Sub-Saharan Africa. Actually this is one episode in a political struggle… Read more »

Senegal: 'Wade Will Win'

Daily Observer, 23 March 2012

The special envoy of the Allied Forces ( FAL 2012)of Senegal's ruling PDS party dispatched to Banjul by President Abdoulaye Wade,says he is confident the former will win Sunday's… Read more »
InFocus
Le scrutin pour le second tour de l'élection présidentielle devant départager le président sortant, Abdoulaye Wade, et son ancien Premier ministre, Macky Sall, a pris fin ... Read more »
Blog: Africa in Transition, Thu 22 Mar, 07:13 pm 2012

In a previous blog, I stated that the date of Senegal's presidential runoff would be Sunday, March 18. This is... read more »
Senegal: The Arab Spring - Senegalese Echoes?

African Arguments, 13 March 2012

In an earlier reflection, I examined the domino-effects of the Arab Spring on Sub-Saharan African countries and the conditions that should exist if effective and radical change is… Read more »

Senegal: Presidential Run-Off Campaign Kick Starts

Foroyaa, 9 March 2012

Senegal's incumbent President Wade and his former premier Macky Sall have started campaigning for the Presidential run-off slated for March 25. Read more »

Senegal: Is the Die Already Cast for Wade?

Chatham House, 4 March 2012

Abdoulaye Wade failed to get anywhere near the 50% threshold for first ballot victory in Senegal's 26 February presidential election, which would have given the 85 year-old a fresh… Read more »

Senegal: How Obasanjo Sidetracked the Opposition

Fahamu, 2 March 2012

It can be argued that the opposition was the main loser in the so-called mediation initiative by former Nigerian President Obasanjo. Obasanjo also kept M23 busy enough to abandon… Read more »

Senegal: Democracy Proves Itself as Run-Off Looms

Daily Maverick, 2 March 2012

It's a paradox that the man who won the most votes in Senegal's presidential elections is also the ballot's biggest loser. Not that President Abdoulaye Wade will be in any mood to… Read more »
InFocus
On the eve of Senegal's most troubled election since independence, in which 85-year-old President Abdoulaye Wade is seeking a controversial third term in office, an analyst ... Read more »

Clashes between security forces and demonstrators protesting against the candidature of President Abdoulaye Wade are escalating in the lead up to Sunday's election. Read more »