Aid Groups Urged to Set Up Headquarters in Somalia
Turkey is urging international aid organisations to set up permanent headquarters in Somalia where they have been absent since the country's government collapsed in 1991.


Video
Publisher:

Publication Date:

30 May 2012

For years, donor countries have poured hundreds of millions of dollars into Somalia, hoping to stabilise the country. Over the past year, Turkey has ... see more »
Kenya: Paramilitary Group Denounces Somalia Istanbul Talks

Capital FM, 1 June 2012

A Somalia paramilitary group fighting Al-Shabaab alongside the Transitional Federal Government has dismissed as a "waste of time" the Somalia conference underway in Istanbul,… Read more »

Somalia: Prime Minister of Somalia Speech At Istanbul Conference II

Shabelle, 31 May 2012

HE Shariff Hassan Sheikh Aden, Speaker of Somalia Read more »

Somalia: Will Turkey Help Somalia Scratch Its 21-Year Itch?

ThinkAfricaPress, 29 May 2012

From the upcoming Istanbul Conference on Somalia to ground-up nation-building, Turkey provides a new and welcome approach to Somalia. Read more »

Somalia: Corrupt Officials Sell Invites to Civil Society Conference

Garowe Online, 31 May 2012

Over 60 people were taken to a Somali civil society conference in Turkey after paying sums of up to $ 10,000 to Transitional Federal Government (TFG) officials, Garowe Online… Read more »

Africa: Leaders Meet Over Somalia

BuaNews, 31 May 2012

Representatives from over 54 countries have gathered in Istanbul to find a path towards a better future for Somalia. Read more »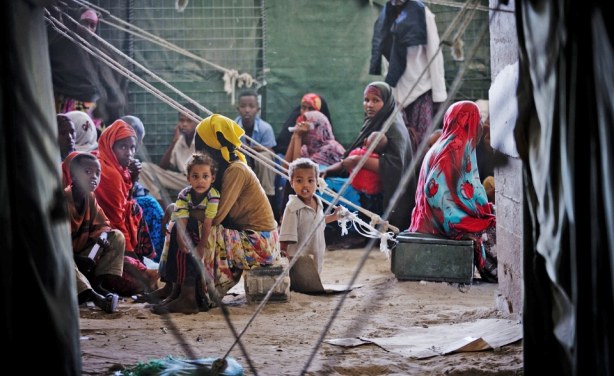 Women and children in Somalia: Turkey's interest in the country has been met with some skepticism.
Somalia: Regional Gov'ts Say Their Output Was Not Heard On Civil Society Conference

Garowe Online, 28 May 2012

Regional government officials are upset that there has been no consultation with their governments by the Turkey who is hosting a Somali civil society meeting, Garowe Online… Read more »

Somalia: Puntland and Galmudug Say Turkey Conference Is 'Politically Motivated'

Garowe Online, 27 May 2012

Puntland and Galmudug have withdrew from the upcoming Istanbul conference at the end of the month sighting that it is not a Somali-owned process, Garowe Online reports. Read more »

Somalia: The Soft Power Role of Turkey

ISS, 22 May 2012

Turkey has suddenly and vigorously undertaken a series of initiatives to help Somalia out of its dire political and economic crisis. Read more »

Somalia: Somalia Leaders Meet At African Union Headquarters for Constitution, Elections Process

Garowe Online, 22 May 2012

Key leaders in Somalia met in the Ethiopian capital Addis Ababa on Monday aiming to discuss critical issues relating to the war-torn country's new constitution and the upcoming… Read more »

Somalia: Country Enters 'Critical Stage' as Transition Ends

UN News, 15 May 2012

Somalia is entering its "most critical stage" as the end of its transitional governing period approaches in August, a United Nations envoy said today, calling for the international… Read more »

Somalia: 'Turkey Has No Ulterior Motives in Country'

Garowe Online, 28 April 2012

Turkish foreign minister spokesman Selcuk Unal said that Turkey does not have any ulterior motives in assisting Somalia, Radio Garowe reports. Read more »
InFocus
Thousands of Somalis have been displaced in the past few days as fighting continues between insurgents and allied forces. Read more »

African and Western leaders have held an historic meeting in London to discuss the future of Somalia. Some say the meeting happened only because desperate young Somalis carrying ... Read more »

United Nations chief Ban Ki-moon has called on the world to adopt a new approach to bring peace to Somalia. Read more »