East African Talent Surges in 10,000m Olympics Race
Mo Farah, a Somali-born athlete who is now British, and Ethiopia's Tariku Bekele, won the gold and bronze medals respectively at the Olympics 10,000m race. Kenya's long-held hopes of gold in the race were dashed.


East Africa: Somali-Born Brit Wins Olympics 10,000m

Capital FM, 4 August 2012

Kenya's wait for men 10000m Olympics glory will spill over to 48 years after Britain's Mo Farah won the thrilling London 2012 final on Saturday, giving the host nation their third… Read more »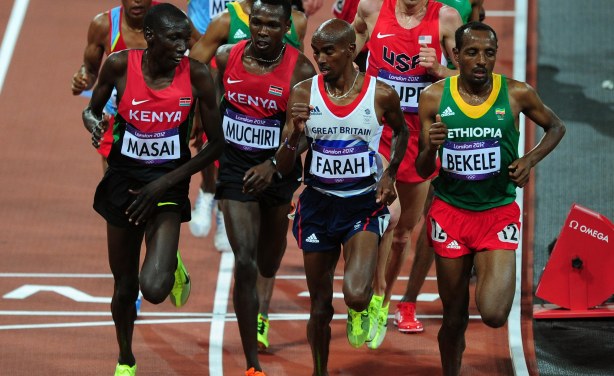 From left, Olympics 10,000m contenders Moses Ndiema Masai, Bedan Muchiri, Mo Farah (who won gold) and Tariku Bekele (silver).
Africa: You Will Hear the Story of Mo Farah

African Arguments, 31 July 2012

If you don't know the story of Mo Farah now, you almost certainly will the day after the 5,000 metres Olympic final on Saturday 11th August. Read more »

Kenya: Country's 10000 Metres Men Squad Aiming for Glory

Capital FM, 4 August 2012

After the disappointment of losing out on the gold in the women 10000m finals on Friday, focus will be on the male athletes in the same distance, to bring home the elusive medal… Read more »

Ethiopia: The Nation's Medal Hopefuls

Addis Fortune, 29 July 2012

Following the emergence of a new generation of medal hopefuls in both traditionally strong and previously unheralded events, those involved with the Ethiopian Olympic team are… Read more »

Africa: Muslim Athletes Face Dilemma At Olympics

ENI, 23 July 2012

Several of the world's top Muslim athletes have announced they will delay the start of their annual Ramadan fast this year, as it clashes with the Olympic Games taking place in… Read more »