Saving Mothers and Babies With Family Planning
With the deaths of at least 100,000 women in childbirth every year, as well as 600,000 babies, it's time to put the controversy of family planning aside and do the right thing for women and their children, says Melinda Gates of the Bill & Melinda Gates Foundation.


Africa: Beyond Contraceptive Controversy - Melinda Gates Bets on Pro-Life Policies

allAfrica, 23 July 2012

Melinda Gates wants you to know this: if women in poor countries can get the contraceptives they want, millions of lives will be saved. Read more »

Africa: Contraception Innovations Can 'Save Millions'

allAfrica, 13 July 2012

The Summit on Family Planning drew policy makers, donors and health professionals to London on 11 July to discuss how to provide access to contraceptives to more of the world's… Read more »

Nigeria: Govt Pledges to Supply More Contraceptives

allAfrica, 11 July 2012

Following is an address to the Global Family Planning Summit by Dr Muhammad Ali Pate, the Minister of State for Health of Nigeria. Read more »

Senegal: Health Minister Says Family Planning a National Priority

allAfrica, 11 July 2012

Following is the text of the address by Senegal's Minister of Health Dr Awa Marie Coll-Seck to the Family Planning Summit: Read more »

Ethiopia: 'Choosing Our Future' - Health Minister's Speech to Family Planning Summit

allAfrica, 11 July 2012

Following is the text of the address by Ethiopia's Minister of Health Dr. Tedros Adhanom Ghebreyesus to delegates at the London Summit on Family Planning: Read more »

Africa: London Summit Aims to Save Lives With Family Planning

allAfrica, 10 July 2012

A summit aimed at halving the number of women in developing countries without access to contraception opens in London on Wednesday, and African women stand to benefit the most… Read more »

South Africa: Clinic Shows How to Cut Maternal Deaths

allAfrica, 6 July 2012

In a country where deaths from pregnancy and childbirth have been rising - more than four-fold in a decade, according to reports - not a single maternal death was recorded at a… Read more »

Kenya: China Donates Contraceptives to Kenya

CISA, 27 July 2012

China has joined Kenya's family planning campaign by donating contraceptives worth Sh4 million to the Kenyan government. Read more »

Congo-Kinshasa: Where Giving Birth Is Deadly

allAfrica, 8 May 2012

Her limbs flaccid, her eyes wide with fear and pain, Théthé's cries seem oddly detached from her body, as if part of her isn't lying on a brown vinyl mattress, slick… Read more »

Kenya: Slum Midwives Bridge Labour Gap

allAfrica, 3 April 2012

To the casual visitor, the dusty, dimly lit room may not look much like a birthing center. But many women consider their babies lucky to enter the world in this mud-walled space in… Read more »

Malawi: Engaging Local Leaders to Save the Lives of Mothers

allAfrica, 30 September 2011

Joyce Banda is Malawi's first female vice president. Before taking office in 2009, Banda served as a member of parliament, minister of Gender, Child Welfare and Community Services,… Read more »

Zimbabwe: Govt Approves Abortion Treatment

The Herald, 1 August 2012

Women who illegally abort and seek post abortion care and treatment at clinics and hospitals will no longer be reported to the police, a Government official has said. This comes at… Read more »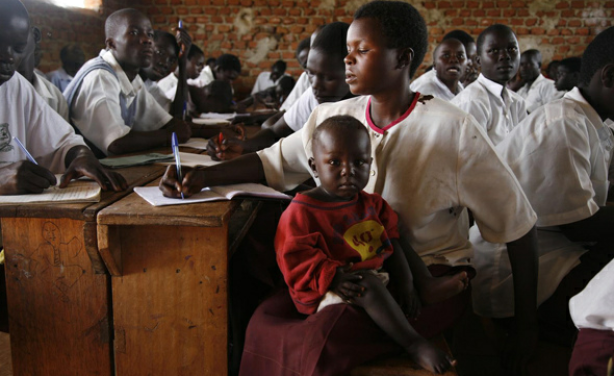 A young woman attends school with her son, in Uganda.
Photo Essays
Picture 1 of 9

Picture 1 of 6

A report by Save the Children's Saving Newborn Lives programme takes a close look at newborn survival rates over the last decade. After three years of analysis, a team of more than 150 authors ... see more »

Picture 1 of 14

Kavita Masenga is the head nurse in the maternity ward at Kinshasa General Hospital. It once hosted the largest maternity ward in all of sub-Saharan Africa, with up to 150 births a day. Patients came ... see more »