South Africa's Malema Fans Flames of Mine Killings?
Attempts at a memorial service to honour the slain miners denigrated into a political boxing match. This after residents of the settlement next to the Marikana shaft of the Lonmin mine turned to expelled ruling African National Congress youth league leader Julius Malema who blamed the government for the deadly clashes.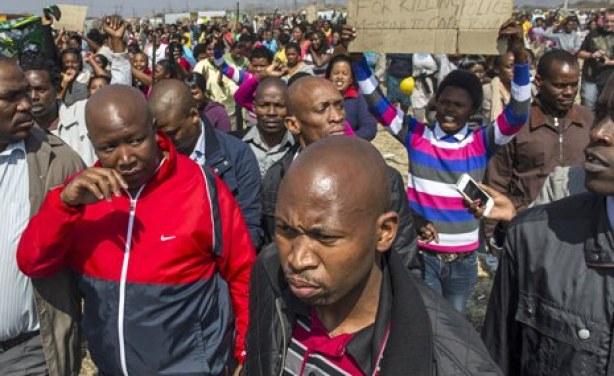 One of the women at Wonderkop holds up a sign behind Julius Malema, far left, offering a reward for the killing policemen.
Photo Essay
Picture 1 of 8

Striking Lonmin miners gathered to discuss the deaths of some 34 of their colleagues two days previously. They were addressed by strike leaders and the expelled African National Congress Youth League ... see more »
InFocus
The government announced a national week of mourning, including a task team to probe labour issues and a committee to provide support to relatives who were involved in the deadly ... Read more »

The police chief says that police officers were forced to shoot the 34 striking miners after a series of violent protests at one of the world's largest platinum-producing mines. Read more »

Unrest at Lonmin - one of the world's largest platinum-producing mines - led to the deaths of several people, including police, after nearly a week's strike action involving rival ... Read more »