Gambia: More Prisoners Risk Execution
The rights group Amnesty International is warning that more prisoners in the Gambia risk execution following official confirmation that nine other death row inmates were put to death last week.
"One can only imagine the terror the death row inmates and their families are facing knowing that at any moment they could be pulled from their cells and put in front of a firing squad," the group laments.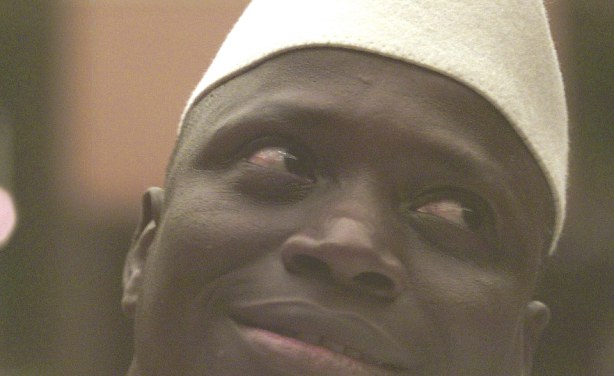 President Jammeh Gambia.
Gambia: U.S. State Department on Death Row Executions

State Department, 28 August 2012

U.S. DEPARTMENT OF STATE Read more »

Gambia: Executions a Step Backwards for Country, Expert Says

UN News, 28 August 2012

An independent United Nations human rights expert today strongly condemned the recent execution of nine people in the Gambia, and called on the Government to refrain from executing… Read more »

Gambia: Nine Death-Row Prisoners Allegedly Executed

Cameroon Tribune, 26 August 2012

President Yahya Jammeh has vowed to execute all death row prisoners by mid September. Read more »

Gambia: Why the Execution of Death Row Inmates?

Daily Maverick, 27 August 2012

In the little West African state of Gambia, prisoners on death row have run out of time. Gambia's president wants them all killed, and quickly, to show other would-be criminals… Read more »

Nigeria: Stop Execution of Nigerians On Gambia's Death Row, SERAP Tells Jonathan

Vanguard, 27 August 2012

Socio-Economic Rights and Accountability Project (SERAP) has sent a public urgent appeal to President Goodluck Jonathan urging him to use "his position and the country's influence… Read more »

Gambia: President Asked to Retract Execution Order for Death Row Inmates

AI London, 21 August 2012

Gambian president Yahya Jammeh's reported comments that people sentenced to death in The Gambia will be executed by September must not be acted on, and must be retracted, Amnesty… Read more »

Togo: Anti-Govt Protests and Sex Strike Hit Togo

RFI, 27 August 2012

Anti-government demos and sex strikes in Togo and criticism of President Jammeh in Gambia are among the stories catching the eye in the African papers today. Read more »