Doctors in Kenya Go on Strike
More than 3,000 medical practitioners countrywide are expected to take part in a strike after they said the government turned a deaf ear to their grievances.


Kenya: Public Doctors Prepare to Down Tools

Capital FM, 12 September 2012

Doctors working in the public sector will down their tools on Thursday morning, as scheduled, saying the government has turned a deaf ear to their strike notice. Read more »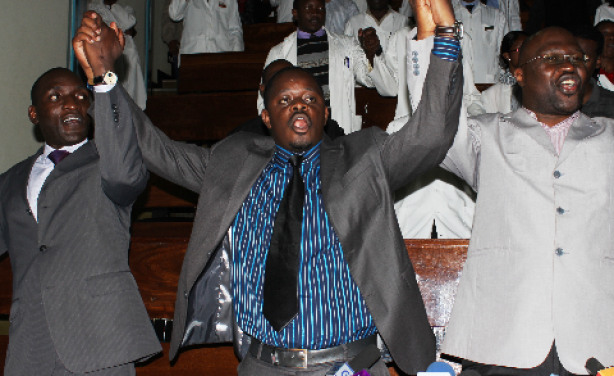 Kenya Medical Practitioners and Dentists Union Chairman Victor Ng'ani, Secretary General Were Onyino and First Vice Chairman Sultani Matendechere lead doctors in singing a solidarity song when starting a strike for a section of Kenyatta National Hospital doctors (file photo).
Kenya: Medical Association Sure to Avert Strike

The Star, 12 September 2012

THE Kenya Medical Association is confident of brokering deal to avert an impending nationwide doctors' strike tomorrow. Read more »

Kenya: 750 Nurses to Go On Strike

The Star, 12 September 2012

MORE than 750 nurses at the Moi Teaching and Referral Hospital in Eldoret will tomorrow down their tools following the collapse of the agreement between them and the hospital… Read more »
InFocus
More than 3,000 medical practitioners countrywide are expected to take part in a strike after they said the government turned a deaf ear to their grievances. Read more »