Drought Sends Food Prices Soaring in Mauritania
With carcasses of dead livestock scattered throughout the landscape, the effects of the drought are alarmingly visible as households struggle with reduced crop yield and increased price of food on local markets.


Mauritania: Drought Sends Food Prices Soaring

AlertNet, 5 October 2012

In some countries across the Sahel the end of the lean season heralded a period of steady rainfall. Not so in Mauritania, where households are still struggling to cope with… Read more »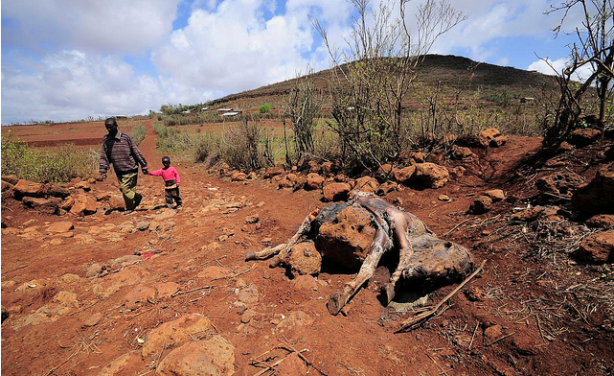 A livestock carcass.
Mauritania: Mauritania's Date Palms, Cultural Heritage and Means of Survival

IPS, 21 August 2012

"The palm tree is a means of survival," said Tahya Mint Mohamed, a 44-year-old Mauritanian farmer and mother of three children. "We eat its dates; we make mats, beds and chairs… Read more »

Mauritania: Sharing to Survive

UNIRIN, 17 July 2012

"No one can eat alone - many people do not have enough," said Moussa. "All neighbours cook and eat together. Everyone eats in batches - first the children, followed by the elders,… Read more »

Mauritania: Emergency Food Programme Under Fire

IPS, 10 July 2012

The sun is beating down on Nouakchott, the Mauritanian capital, and Habi Amadou Tidjane Diop is a tired and frustrated woman. Seated on an empty upturned bucket, the mother of nine… Read more »

Africa: Insuring Against Dry Days in Africa

UNIRIN, 12 June 2012

Temperatures beyond 40 degrees Celsius seem to have seared the carcasses of skinny cows, goats and even a horse that mark the sandy and almost lifeless landscape in southeastern… Read more »

West Africa: Hunger Affecting 10 Million as Dry Season Approaches

UNIRIN, 29 March 2012

Hunger has come again to the Sahel. "Since yesterday I have only drunk water," said Houley Dia, 60, a widow who lives in Houdallah, a village of the Fula ethnic group in southern… Read more »