U.S. Wants Algeria Backing on Mali Intervention
The United States is pressing for Algerian backing in a pending military action against al-Qaeda linked Islamists in northern Mali. With the two countries sharing a 2,000-km border, a State Department official is quoted as saying that support from "the strongest Sahel state" is critical.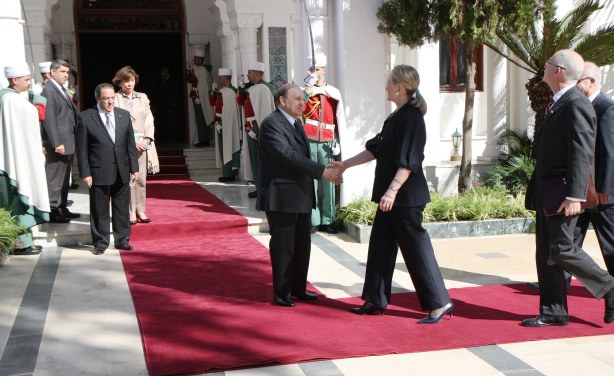 U.S. Secretary of State Hillary Rodham Clinton shakes hands with Algerian President Abdelaziz Bouteflika in Algiers, Algeria,.
Algeria: Clinton in Algeria for Talks On Mali

Tunis Afrique Presse, 29 October 2012

US Secretary of State Hillary Clinton was in Algeria Monday to press for possible military intervention in neighbouring Mali, where Islamic extremists have taken over large parts… Read more »

Algeria: Clinton Arrives in Algeria

Magharebia, 29 October 2012

US Secretary of State Hillary Clinton arrived in Algiers on Monday (October 29th) for talks with Algerian President Abdulaziz Bouteflika, AFP reported. They are expected to discuss… Read more »

Algeria: Hillary Clinton discusses Mali, terrorism in Algiers

Cameroon Tribune, 29 October 2012

The US Secretary of State met with President Bouteflika yesterday, October 29. Read more »

Algeria: U.S. Secretary of State to Visit Algeria

Magharebia, 25 October 2012

US Secretary of State Hillary Clinton will visit Algeria on October 30th, US State Department spokesperson Victoria Nuland said on Wednesday (October 24th). Read more »

Algeria: Algeria Steps Up Southern Border Security

Magharebia, 23 October 2012

Ahead of a possible West African military intervention in northern Mali, Algeria is bolstering its troop presence on its troubled southern frontier. Read more »

Algeria: Clinton After Meeting With President Bouteflika

State Department, 29 October 2012

Office of the Spokesperson Read more »

Algeria: State Dept. Officials On Clinton's Trip to Algeria

State Department, 29 October 2012

U.S. DEPARTMENT OF STATE Read more »

Algeria: U.S. State Dept. Daily Press Briefing: Algeria-Mali

State Department, 25 October 2012

Excerpt from the United States Department of State Daily Press Briefing Read more »

Mali: AU's Peace and Security Council Tackles Situations in Mali - Sudan and South Sudan

African Union, 24 October 2012

On the situation in Darfur, the Chairperson said "There remain ... critical outstanding matters relating to the determination of the final status of Abyei; the resolution of the… Read more »

Mali: Former Bin Laden Advisor Criticises Mali Islamists

Magharebia, 24 October 2012

A former leading member of al-Qaeda urged jihadists in northern Mali to make peace. Read more »

Africa: Top Peacekeeper Highlights Mission's Challenges

UN News, 23 October 2012

The United Nations top peacekeeper today highlighted the need for flexibility and increased coordination among international actors to ensure peacekeeping missions address the… Read more »

West Africa: U.S. State Department Daily Press Briefing: Mali

State Department, 23 October 2012

Excerpt from the United States Department of State daily press briefing: Read more »

Mali: Military Experts Meet On Mali

Magharebia, 29 October 2012

World powers are stepping up their preparations for a possible Malian military operation to retake the north. Read more »