Did Zuma Mislead South Africans About Home Loan?
The government says that President Jacob Zuma does have a bond and is still paying it, following reports that the president may have misled parliament about a mortgage bond on his residence.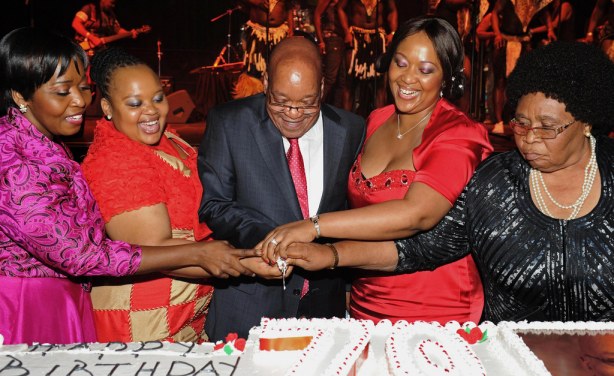 President Jacob Zuma on his 70th birthday with his wives, from left is Bongi Ngema, Nompumelelo Ntuli, Thobeka Madiba and Sizakele Khumalo Zuma.
South Africa: President Zuma Has a Home Loan - Presidency

SAnews.gov.za, 20 November 2012

The Presidency has noted weekend newspaper reports implying that President Jacob Zuma may have misled the National Assembly when he said he had a mortgage bond on his residence in… Read more »

South Africa: President Jacob Zuma Does Have a Home Loan

Govt of SA, 20 November 2012

The Presidency has noted weekend newspaper reports implying that President Jacob Zuma may have misled the National Assembly when he said he had a mortgage bond on his residence in… Read more »
InFocus
Scrutiny on President Jacob Zuma's private residence prompted an unprecedented and emotional tirade from him saying that he felt "aggrieved" by the uproar that the renovations ... Read more »

An investigation will be conducted to probe the revamp of President Jacob Zuma's homestead after allegations that taxpayer's money would be used, however, the government says ... Read more »

President Jacob Zuma could cost taxpayers more than R500 million over five years with an average of R103.5 million per year, according to the opposition party. Read more »