Kenya Launches Inquiry into Police, Civilian Killings
The Cabinet has approved an investigation into the deaths of 42 police officers and subsequent atrocities committed by troops sent to Garissa to find the killers.


Kenya: Cabinet Orders Probe Into Police Killings

Capital FM, 22 November 2012

The Cabinet on Thursday approved the establishment of an inquiry into the killing of security officials and the subsequent destruction of property in Baragoi and Garissa. Read more »
Video
Author:

Kenya Citizen TV

Publisher:

Publication Date:

22 November 2012

The government has been taken to task today over alleged brutality and destruction by the military in Garissa in an emotional session of parliament ... see more »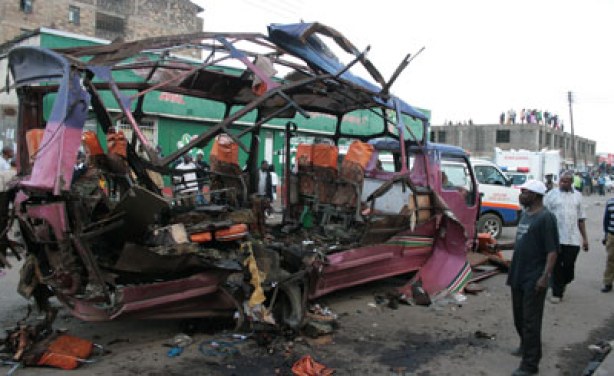 The remains of a minibus explosion that sparked riots in Nairobi.
Kenya: MPs' Committees to Probe Baragoi Killings

Capital FM, 21 November 2012

Parliament on Wednesday directed the committees on National Security and Defence to probe the Baragoi and Tana Delta killings, as well as this week's skirmishes in Garissa and… Read more »