Rolling Out Kangaroo Mother Care in Nigeria
Could kangaroo mother care play a role in saving the hundreds of thousands of infants who die before their first birthday, asks ThinkAfrica Press.
Nigeria: Rolling Out Kangaroo Mother Care

ThinkAfricaPress, 22 November 2012

With over a quarter of a million newborn babies in Nigeria dying before they reach one month, could Kangaroo Mother Care be part of the solution? Read more »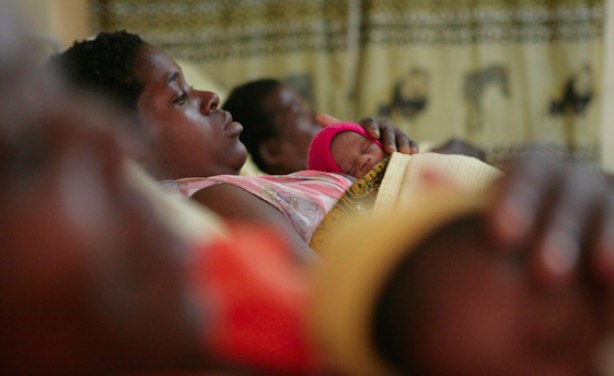 Mothers are encouraged to practice kangaroo care for as much of the day as possible.
Nigeria: Jonathan - Why I Am Passionate About Checking Infant Mortality

This Day, 17 October 2012

Being the lone male survivor of the nine children his mother had while the remaining seven died as infants, President Goodluck Jonathan Tuesday said he is passionately committed to… Read more »

Nigeria: 1,200 Pregnant Women Get MDGs Support in Ogun

Daily Trust, 19 November 2012

A total of 1200 pregnant women have benefited from the Conditional Cash Transfer (CCT) scheme under the Millennium Development Goals (MDGs) project in Ogun state. The scheme is… Read more »

Nigeria: Lagos Launches Maternal and Child Mortality Reduction Programme

Daily Trust, 18 October 2012

Lagos State Government has formally launched the Maternal and Child Mortality Reduction programme. Read more »

Nigeria: Maternal/Infant Mortality - FG to Engage 9, 000 Midwives, Nurses

This Day, 18 September 2012

Plans are underway by the federal Government is to employ 9, 000 midwives, nurses and community health workers nation-wide to curb the rising maternal and infant mortality rates in… Read more »

Nigeria: Dying to Give New Life

Daily Trust, 27 May 2012

The 25th anniversary of the Safe Motherhood Initiative this year comes as countries scramble to reduce the number of women and children dying. Read more »

Nigeria: Health System Failing Youngest Citizens

IPS, 15 January 2011

Despite some progress, Nigeria is lagging behind its peers in reducing deaths among children under five. The mortality rate remains worryingly high for newborn infants - 700… Read more »