Rwandans Mark National Heroes' Day
Every year on 1 February the country remembers the role local heroes and heroines played in bringing freedom to the country.


Rwanda: Rwandans Mark Heroes' Day

New Times, 1 February 2013

Nothing could overshadow the path they took. If it came to life and death, they would give up the former for the freedom and tranquility of Mother Country. That ultimate sacrifice,… Read more »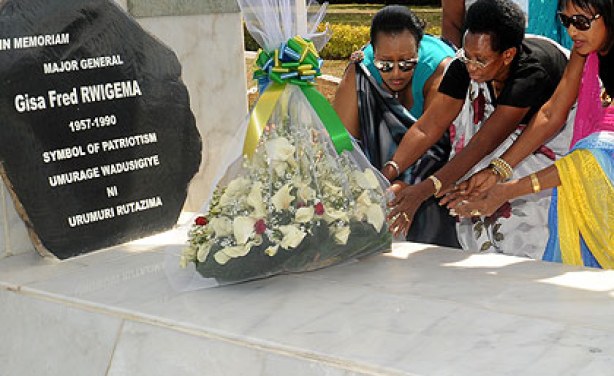 Remembering a fallen hero (file photo).
Rwanda: Kamonyi Residents Educated About Heroes Day

News of Rwanda, 31 January 2013

Residents of Runda sector were called upon to participate in the forth coming hero's day on 1st -February-2012. Read more »

Rwanda: Know Your Heroes

New Times, 1 February 2013

Every year, on February 1, Rwandans celebrate the National Heroes' Day. It is the day on which we reflect on acts by national heroes and heroines and the values for which they are… Read more »

Rwanda: The Other Side of Our Heroes - King Rudahigwa and Agathe Uwilingiyimana

New Times, 1 February 2013

Today, we celebrate the lives of our nation's greatest heroes. The Unknown Soldier, Major General Fred Gisa Rwigema, King Charles III Mutara Rudahigwa, Prime Minister Agathe… Read more »

Rwanda: Antonia Locatteli, the Unsung Hero of Bugesera

New Times, 1 February 2013

MOST OF us know what some members of the Catholic clergy did or failed to do during the 1994 Genocide against the Tutsi, but many were not flattering. Read more »

Rwanda: Let Us Walk On the Path Our Heroes Treaded

New Times, 1 February 2013

TODAY, WE are celebrating the lives of our nation's greatest heroes. The Unknown Soldier, Major General Fred Gisa Rwigema, King Charles III Mutara Rudahigwa, Prime Minister Agathe… Read more »

Rwanda: Happy Heroes' Day!

New Times, 1 February 2013

IF YOU did not witness them, you've heard or read about them: ordinary men and women who risked limb and life to save neighbours and non-neighbours in peril. Or who firmly and… Read more »

Rwanda: Every Rwandan Is a Hero

New Times, 29 January 2013

FRIDAY this week, we mark Heroes Day. We honour those Rwandans who, through acts of courage, selflessness, sacrifice, vision, and patriotism, did so much for this country that… Read more »

Rwanda: Heroes' Day to Be Celebrated

Rwanda Govt, 29 January 2013

Celebrations to mark the 19th Heroes' Day will be held at the village level to engage citizen participation at the grass roots and for neighbours to share in the spirit of the… Read more »

Rwanda: Heroes? Day to Focus On Youth

New Times, 17 January 2013

This Heroes' Day celebrations this year will target youth, especially those in tertiary institutions. Read more »