East Africa Moves Towards One-Stop Border
The East African Legislative Assembly has passed the One Stop Border Posts Bill, 2012, paving the way for it to become law if agreed to by regional heads of state.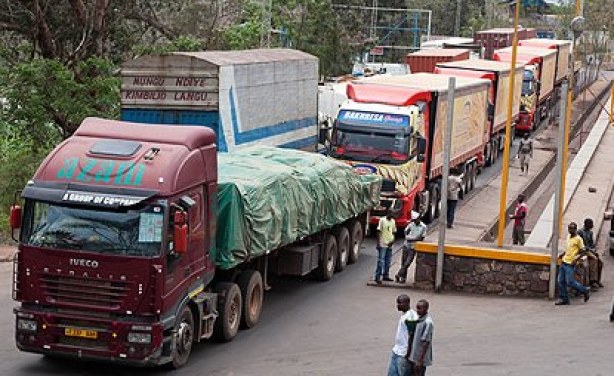 A busy Rwanda-Tanzania border post at Rusumo. The Bill seeks to ease clearances, among others (file photo).
East Africa: EALA Passes One-Stop Border Law

Capital FM, 24 April 2013

The East African Legislative Assembly (EALA) has passed the One Stop Border Posts Bill 2012, paving way for it to become regional law if assented to by the East African Community… Read more »

East Africa: EAC One-Stop-Border Posts Bill Passed

New Times, 24 April 2013

Members of the East African Legislative Assembly (EALA), currently sitting in Kigali, late Tuesday, passed the long-awaited One-Stop-Border Posts bill, paving the way for it to… Read more »

East Africa: Museveni in Rwanda for East African Legislative Assembly

New Vision, 24 April 2013

The Chairperson of EAC Summit, President Yoweri Museveni, will use his State of the EAC Address to a special sitting of the East African Legislative Assembly in Kigali to highlight… Read more »

Uganda: President Museveni's Speech At EALA Session in Kigali

New Times, 24 April 2013

I always like to start the issues of Africa in 1900. Our Banyankole [western Uganda tribesmen] people say: Kamara matsiko nka icumu rya ahanda. This translates as: "When a spear… Read more »

Rwanda: EALA Approves One Stop Border Posts Bill

New Times, 24 April 2013

The East African Legislative Assembly (EALA), which is sitting in Kigali, on Tuesday, passed the long-awaited One Stop Border Posts Bill, 2012, paving way for it to become a… Read more »

Uganda: Museveni Rallies for Unified Africa

New Times, 24 April 2013

Africans can work together to improve their political and economic clout through deep political integration and common markets, President Yoweri Museveni said yesterday. Read more »
InFocus
Some member countries are reportedly dragging their feet in implementing the single tourist visa, prompting questions over its feasibility. Read more »