Will Mugabe Lose Zimbabwe Election?
President Robert Mugabe seeks to extend his 33-year grip on power despite his advanced age and health concerns when he faces politcal rival Morgan Tsvangirai in a tightly contested presidential race.


Zimbabwe: Report Says Mugabe Will Lose Election

Zimbabwe Standard, 28 July 2013

With three days to go before the harmonised elections, a new report says there is a real chance that President Robert Mugabe may finally be dislodged from power by MDC-T leader… Read more »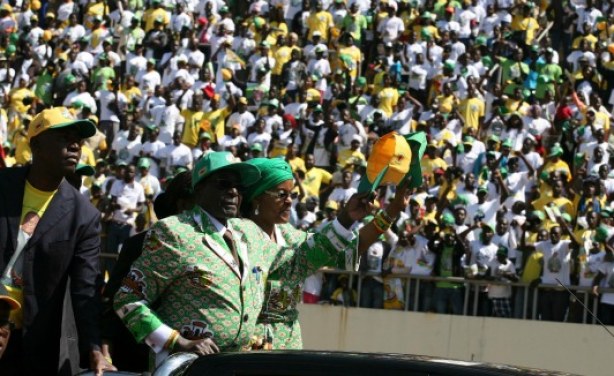 President Robert Mugabe and wife Grace at a campaign rally.
Zimbabwe: Mugabe Fails to Fill National Sports Stadium

New Zimbabwe, 28 July 2013

PRESIDENT Robert Mugabe's last star rally ahead of watershed elections this week failed to live up to its billing as the veteran leader failed to fill Harare's 60,000-seater… Read more »

Zimbabwe: Mugabe Is Gone, Vows Tsvangirai

Zimbabwe Standard, 28 July 2013

MDC-T leader, Morgan Tsvangirai yesterday said Wednesday's elections will send President Robert Mugabe into his long overdue retirement, vowing this time around no one was going to… Read more »

Zimbabwe: Mugabe a Puppet of the Military - Tsvangirai

New Zimbabwe, 28 July 2013

MDC-T leader Morgan Tsvangirai claimed Sunday that President Robert Mugabe was a puppet of the military, adding it was a travesty that a man nearly 90 years old and in office for… Read more »

Zimbabwe: Mugabe, Tsvangirai Neck and Neck at Polls

Zimbabwe Independent, 26 July 2013

WITH only five days to go before Zimbabwe's watershed general elections, public opinion surveys and party campaigns show that President Robert Mugabe and Prime Minister Morgan… Read more »

Zimbabwe: 'Mugabe Eyeing Life Presidency'

Zimbabwe Independent, 26 July 2013

PRESIDENT Robert Mugabe is likely to hold onto power if he wins the presidential election contrary to belief that he would retire, while for Prime Minister Morgan Tsvangirai, the… Read more »

Zimbabwe: Zimbabwe Elections - Faith, Hope and Standing Up to the Bully?

RNW Africa, 26 July 2013

Have young Zimbabweans come to realize that they can change the old status quo? Taking cues from biblical verse, our blogger in Harare is optimistic. Read more »

Zimbabwe: Mugabe's Last Stand

Zimbabwe Independent, 26 July 2013

President Robert Mugabe will next Wednesday make his last stand as he seeks re-election in what is almost certainly going to be the last electoral battle of his long political… Read more »

Zimbabwe: July 31 Poll - the Odds in Favour of Morgan Tsvangirai

Zimbabwe Independent, 26 July 2013

Having attended and observed the presidential election campaigns between the main political protagonists, President Robert Mugabe and Prime Minister Morgan Tsvangirai and taking… Read more »

Zimbabwe: President Mugabe Will Win - Muchena

Zimbabwe Independent, 26 July 2013

Ahead of crucial general elections next week, Alpha Media Holdings Group Planning Editor Brian Mangwende interviewed former Air Force of Zimbabwe Vice-Air Marshal Henry Muchena,… Read more »

Zimbabwe: End of an Era of Unity Govt

African Arguments, 25 July 2013

It's now only a few days to 31 July 2013, a day set for Zimbabwe's make or break harmonized elections. The day is finally upon us despite doubts on the credibility of the… Read more »
InFocus
An anonymous Facebook character has become popular for attacking and disclosing alleged top Zanu-PF secrets ahead of elections. Read more »

As Zimbabwe holds general elections this month, analysts wonder if the Southern African Development Community has done enough to gaurantee a poll that is not a repeat of 2008. Read more »