Addis Forum Examines U.S. African Trade
The 12th U.S-Sub-Saharan Africa Trade and Economic Cooperation Forum is taking place in Addis Ababa. Private sector and civil society meetings, along with a session for women entrepreneurs, precede a ministerial-level gathering to discuss how to improve, and renew, the African Growth and Opportunity Act, trade legislation which is set to expire in September 2015. The Obama administration is backing private-sector-led growth, Trade Representative Michael Froman said in an interview.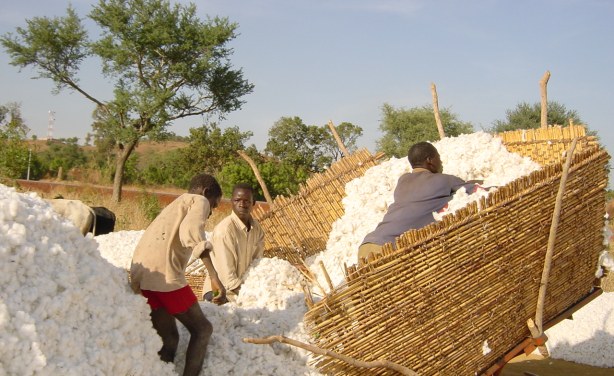 Cotton from Burkina Faso used to make textiles. Some countries hold the right to export many products, including textiles, under the quota-free and duty-free provisions of AGOA.
Africa: AU - Africa Needs to Diversify Export Under AGOA

ERTA, 11 August 2013

The African Union said Africa needs to diversify its products exported to the US under AGOA (African Growth and Opportunity Act) with a view to maximize its benefits from the… Read more »

Africa: U.S. Trade Law Crucial, Says Ethiopian Minister

ERTA, 11 August 2013

The private sector in Africa needs to forge proper coordination with the global economy if the ongoing rapid growth in the continent is to be sustained, Ministry of Trade said. Read more »

Kenya: Exporters Lobby for a Long-Term AGOA Deal

The Star, 9 August 2013

African exporters want the African Growth and Opportunity Act trade deal to be a long term to be project as opposed to the current status where it has to be reviewed after every… Read more »

Africa: Public-Private Partnerships Can Transform Africa

allAfrica, 9 August 2013

While unveiling a bold initiative to double access to power in sub-Saharan Africa, President Barack Obama made it unequivocally clear that this undertaking will require private… Read more »

Africa: Addis Forum to Discuss Future of African Growth and Opportunity Act

VOA, 8 August 2013

US and African delegates will meet next week (August 12-13) to discuss the future of the African Growth and Opportunity Act, or AGOA. Representatives of government, private sector… Read more »

Ethiopia: AGOA Forum Opens in Addis Ababa

Ethiopia Government, 9 August 2013

The 12th United States-Sub Saharan Africa Trade and Economic Cooperation Forum held between the United States and African states which eligible for inclusion under the US African… Read more »

Ethiopia: Ten Year Extension Sought for U.S. African Growth Opportunity

Addis Fortune, 4 August 2013

Next week, hundreds of delegates will converge in Addis Abeba. They will brainstorm and discuss the current state of the African Growth & Opportunity Act (AGOA). This is… Read more »

Africa: U.S. Officials' Briefing On 2013 Agoa Forum

State Department, 31 July 2013

Foreign Press Center Briefing in Washington, DC on the 2013 African Growth and Opportunity Act Read more »

Africa: Regional Integration to Unlock Africa's Potential - Expert

New Vision, 6 August 2013

The continent must give up the idea of national sovereignty for regional integration and pursue actions that benefit the mutual interests of neighbouring countries as this will… Read more »

Africa: Trade, Investment Fastest Way to Boost African Economies

State Department, 1 August 2013

African nations and the United States agree open trade and investment are the fastest ways for African economies to boost economic growth, spur development and reduce poverty, a… Read more »

Africa: African Ambassadors call for 113th Congress to Reauthorize AGOA for 15 Years

Leadership Africa USA, 31 July 2013

In a historic display of cooperation, the African Ambassadors AGOA Working Group released their report of recommendations for the reauthorization of the African Growth and… Read more »

Ethiopia: Ethiopia Draws Up Agoa Strategy

EA Business, 5 August 2013

Ethiopia is the first pilot country to undertake a strategic initiative to draw up an AGOA strategy. Read more »