Thousands Stage Rival Rallies in Tunisia
Thousands of pro- and anti-government protesters have used the country's National Women's Day to express either support or anger against the Islamist regime. Some Tunisians fear that "religious radicals" are gaining influence over the country's political discourse.
Tunisia: Thousands Stage Rival Rallies

Deutsche Welle, 14 August 2013

Tens of thousands of supporters and opponents of Tunisia's Islamist-led government have held rival rallies to mark national women's day. Read more »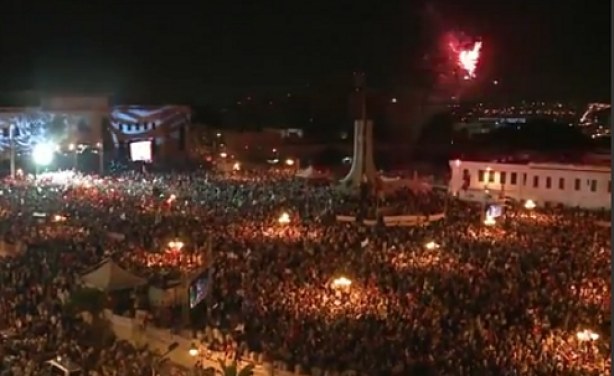 Mass protests in Tunis calling for the Constituent Assembly to be dissolved.
Tunisia: 'Pro-Legitimacy' Sit-in Resumes Outside NCA

Tunis Afrique Presse, 13 August 2013

General co-ordinator of the national coalition for the achievement of the Revolution objectives and support to legitimacy Abdehamid Troudi said that the coalition started a sit-in… Read more »

Tunisia: Dissident NCA Members Require Resignation of Government to Re-Integrate NCA - Abderrazzak Khallouli

Tunis Afrique Presse, 13 August 2013

National Constituent Assembly (NCA) members and member of the movement "Tunisian for freedom and dignity" Abderrazzak Khallouli said that the dissident NCA members required the… Read more »

Tunisia: Political Divide Widens

Magharebia, 14 August 2013

Tunisia celebrated National Women's Day on Tuesday (August 13th) with rival rallies between the secularists and Islamists. Read more »

Tunisia: There Is No Place for Those Who Wish to Go Back On Code of Personal Status - Marzouki

Tunis Afrique Presse, 14 August 2013

Caretaker President Moncef Marzouki said, during a ceremony held Tuesday on Women's Day, that "there is no place for those who wish to go back on the Code of the Personal Status". Read more »

Tunisia: Ennahdha Movement Women Stage March in Bourguiba Avenue in Support of Legitimacy and National Union

Tunis Afrique Presse, 14 August 2013

The Ennahdha movement staged, on Tuesday afternoon in Habib Bourguiba avenue, a women's march to support legitimacy. Read more »

Tunisia: Suspension of NCA Works Divides Troika and Opposition

Tunis Afrique Presse, 10 August 2013

The decision of suspending the works of the National Constituent Assembly (NCA) taken on August 6, 2013 by its President Mustapha Ben Jaafar divided both the ruling Troika and the… Read more »

Tunisia: Bardo Sit-Inners Talk About Attempt to Break Up Sit-in, Security Sources Deny

Tunis Afrique Presse, 9 August 2013

Participants in the "Departure Sit-in" outside the National Constituent Assembly (NCA) said, on Friday, security forces have removed this morning some tents in Bardo Square, in an… Read more »

Tunisia: Thousands of Demonstrators in Bardo Celebrate Women's Day and Claim Dissolution of Government

Tunis Afrique Presse, 14 August 2013

The Bardo square gathered on Tuesday afternoon, thousands of demonstrators on the occasion of the celebration of the National Women's Day and the anniversary of the promulgation of… Read more »
InFocus
Tens of thousands of protesters gathered during the first sitting of the Constitutional Assembly, calling for the body to be dissolved on the same day as the President of the ... Read more »

Tunisia's largest labour union - General Labour Union - says it will be "forced to consider other options" if the Islamist-led government does not resign within a week. Read more »