Zimbabwe Court Scraps 'Mugabe Insult Law'
The Constitutional Court has received widespread praise for scrapping a law which criminalised "insulting the president". The controversial law has been used by the police to arrest political opponents and critics of President Robert Mugabe.
Zimbabwe: Top Court Dismisses Mugabe 'Insult' Case

SW Radio, 31 October 2013

Zimbabwe's Constitutional Court is receiving widespread praise for moving to scrap controversial repressive laws, used repeatedly to stifle freedom of expression and freedom of the… Read more »

Zimbabwe: Court Scraps Controversial Mugabe Insult law

The Herald, 31 October 2013

THE Constitutional Court yesterday ruled that sections of the Criminal Law Codification and Reform Act criminalising the undermining of the authority of the President and… Read more »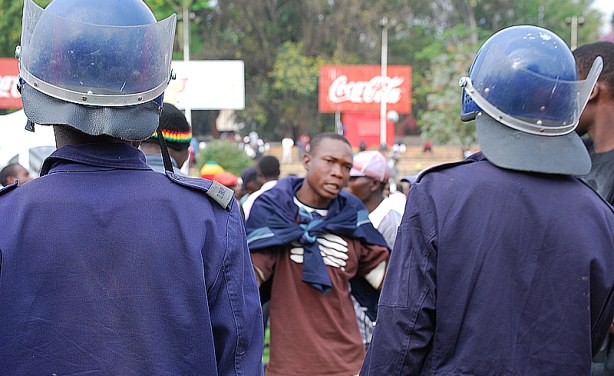 Zimbabwe's Riot police.
Zimbabwe: Malaba Reprimands State

The Herald, 31 October 2013

DEPUTY Chief Justice Luke Malaba yesterday reprimanded the State for arbitrarily arresting people who make disparaging remarks about the President in their drunken stupor. Read more »

Zimbabwe: Victory for Freedom of Expression As Concourt Queries Insult Laws

SW Radio, 30 October 2013

The Constitutional Court on Wednesday ruled that Zimbabwe's punitive defamation law is unconstitutional as it infringes on freedom of expression. Read more »

Zimbabwe: Man Charged With Insulting Mugabe Acquitted

New Zimbabwe, 14 October 2013

A Mutare magistrate has acquitted a 36 year-old man who had been on trial for allegedly undermining authority of or insulting President Robert Mugabe. Read more »

Zimbabwe: University Lecturer Sacked Over Mugabe Slur

New Zimbabwe, 29 September 2013

A LECTURER at Great Zimbabwe University, who insulted President Robert Mugabe twice has been fired by the institution. Read more »

Zimbabwe: Lecturer Dismissed for Insulting Mugabe

Zimbabwe Standard, 29 September 2013

Chenjerai Pamhiri (38), a lecturer at Great Zimbabwe University, who insulted President Robert Mugabe two times has been fired by the state institution. Read more »

Zimbabwe: MDC-T Activists Accused of Defacing Zanu-PF Posters

SW Radio, 27 September 2013

Two MDC-T supporters appeared before a Chitungwiza magistrate on Thursday charged with defacing ZANU PF posters in the run up to the July 31st elections. Read more »

Zimbabwe: Chiredzi Man Convicted After Hitting Mugabe Portrait in Anger

SW Radio, 24 September 2013

A Chiredzi man arrested last year for allegedly 'undermining' the authority of the President after hitting an image of Robert Mugabe has been convicted by a local magistrate. Read more »

Zimbabwe: Calls Grow for 'Insult Law' Reform Ahead of Elections

SW Radio, 25 June 2013

Calls continue to grow for a reform of Zimbabwe's insult laws to be implemented before elections are held, amid concern that the laws will be abused to stifle any dissent. Read more »

Zimbabwe: Mangoma Acquitted for 'Wishing Mugabe Dead'

SW Radio, 24 May 2013

Energy and Power Development Minister Elton Mangoma has been acquitted in a case where the state was accusing him of insulting President Robert Mugabe and 'wishing him dead.' Read more »

Zimbabwe: Lecturer Jailed Over Mugabe 'Donkey' Jibe

SW Radio, 20 May 2013

A university lecturer in Masvingo has been sentenced to three months in jail, after allegedly calling Robert Mugabe a "rotten old donkey." Read more »

Zimbabwe: Madzore Arrested for Insulting President

The Herald, 3 May 2013

MDC-T Youth Assembly chairperson Solomon Madzore was yesterday arrested on allegations of insulting President Mugabe during a rally held recently in Mushumbi, Mashonaland Central… Read more »

Zimbabwe: MDC Youth Leader Arrested for Insulting Mugabe

SW Radio, 2 May 2013

MDC-T youth assembly president Solomon Madzore has again been arrested, this time for allegedly insulting President Robert Mugabe at a party rally in Mushumbe-Mbire, Mashonaland… Read more »

Zimbabwe: Solo Madzore Arrested

MDC, 2 May 2013

Solomon Madzore, the MDC Youth Assembly leader was arrested this morning by police officers from the Harare Central Police Station's Law and Order Section on charges of undermining… Read more »