Africa: How Mandela and Mugabe Differed
The two statesmen were hailed as liberation heroes when they championed the independence of their respective countries and other African nations, but their ideology, approach and paths later diverged.


South Africa: Mugabe Denies Mandela Fallout

New Zimbabwe, 11 December 2013

PRESIDENT Robert Mugabe has denied media reports suggesting relations with the late South Africa president Nelson Mandela were strained, describing the late global icon as a "great… Read more »

South Africa: I Had No Feud With Mandela - President

The Herald, 12 December 2013

President Mugabe has said Cde Nelson Mandela was a "great friend" and there was no feud between them as has been insinuated by some media houses. Since Cde Mandela's death in… Read more »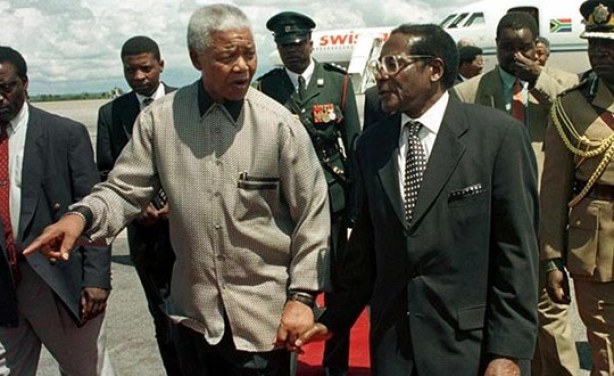 Former South African president Nelson Mandela and Zimbabwean President Robert Mugabe.
Zimbabwe: The Different Paths of Mandela and Mugabe

VOA, 9 December 2013

Zimbabwe President Robert Mugabe is one of the world leaders expected to attend the funeral of former president Nelson Mandela. The two men were both once hailed as liberation… Read more »

Zimbabwe: Mugabe Fought Mandela Over Global Relevance

Zimbabwe Standard, 8 December 2013

President Robert Mugabe had a strained relationship with the late former South African leader, Nelson Mandela as they silently fought for relevance on the global stage and sought… Read more »

South Africa: Cheers Greet Mugabe At Mandela Funeral

CAJ News, 10 December 2013

ZIMBABWEAN President Robert Mugabe received a standing ovation at the funeral of former South African President Nelson Mandela while the country's president Jacob Zuma was booed. Read more »

Zimbabwe: Minister Moyo Raps Mandela Comparisons

The Herald, 10 December 2013

INFORMATION, Media and Broadcasting Services Minister Professor Jonathan Moyo has dismissed frivolous attempts by the Western media to compare African leaders with the former South… Read more »

South Africa: Moyo - Mandela, Mugabe Comparisons Absurd

New Zimbabwe, 9 December 2013

INFORMATION minister Jonathan Moyo has dismissed as a waste of time suggestions African leaders, including President Robert Mugabe, should emulate Nelson Mandela's legacy - in… Read more »

Zimbabwe: President in SA for Mandela's Memorial Service

The Herald, 10 December 2013

PRESIDENT Mugabe will today join over 90 current and former heads of state and government from around the world for the memorial service of former South African president Nelson… Read more »

South Africa: Take a Leaf Out of Mandela's Book

Zimbabwe Standard, 8 December 2013

A wave of grief that has never been seen before has swept across the globe following the death of Nelson Mandela in South Africa. Read more »

South Africa: Mandela's Iconic Stature Earned, Not Demanded

Zimbabwe Standard, 8 December 2013

It seems the death of Nelson Mandela has been rather problematic for the Zimbabwean government. This is seen in the very subdued manner in which the news was received in Harare… Read more »

South Africa: State Media 'Ignores' Mandela Death

SW Radio, 6 December 2013

Zimbabweans have expressed disappointment that the state broadcaster all but ignored the death Thursday night of former South African President Nelson Mandela, only mentioning the… Read more »

Zimbabwe: Robert Mugabe - a Hero and Great Patriot

New Zimbabwe, 25 September 2013

ROBERT Mugabe is the greatest patriot and hero that has ever lived. He is the only leader that ever re-possessed land and deported the usurpers whilst they were in full occupation,… Read more »

Zimbabwe: Mugabe Blasts Mandela

allAfrica, 27 May 2013

President Robert Mugabe criticised former South African president and Nobel Laureate Nelson Mandela for allegedly taking a soft stance on the white people through his… Read more »

South Africa: Mandela Showed That No Hero Is Bigger Than the Nation

RNW Africa, 8 December 2013

The passing of Nelson Mandela marks a time for Africa to reflect and to learn from, writes a Ugandan blogger. Read more »