UN Documents Human Rights Abuses in CAR
The UN has warned that the human rights situation in the country remains volatile. A new report by the organization documents wave of abuses, including extrajudicial killings, sexual violence, mutilations and enforced disappearances.
Central African Republic: UN Documents Human Rights Abuses

UN News, 14 January 2014

The human rights situation remains extremely volatile in the Central African Republic (CAR), the United Nations said today, as it released its findings on a wave of abuses… Read more »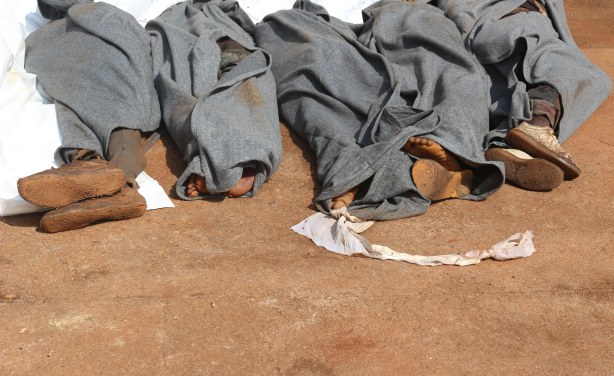 Bodies at the main morgue in Bangui.
Central African Republic: UN Reports Grave Human Rights Violations

VOA, 14 January 2014

A new United Nations report presents an appalling picture of human rights violations in the Central African Republic, including killings, kidnappings, torture, and rape. The report… Read more »

Central African Republic: Urgent Need for Increase in Peacekeeping Troops As CAR President Steps Down

AI London, 10 January 2014

The resignation of the Central African Republic's interim President, Michel Djotodia, risks exacerbating the risk to civilian lives, and indicates the urgent need for increased… Read more »

Central African Republic: Children Being Brutalized in the Central African Republic - Unicef

Unicef, 30 December 2013

Attacks against children have sunk to a vicious new low, with at least two children beheaded, and one of them mutilated, in the violence that has gripped the capital since early… Read more »

Central African Republic: Children Beheaded - Unicef

Deutsche Welle, 30 December 2013

The United Nations says at least two children have been beheaded in the Central African Republic. Fighting between Christians and Muslims intensified in the country in early… Read more »

Central African Republic: UN Experts Warn of Atrocities

UN News, 23 December 2013

Urgent national and international action is crucial to prevent the Central African Republic (CAR) from plunging into full-scale sectarian conflict and protect civilians,… Read more »

Central African Republic: UN Rights Official Calls for International Efforts to Avert Disaster

UN News, 20 December 2013

The crisis in the Central African Republic (CAR), where thousands of people have been killed and 750,000 others driven from their homes, risks deteriorating even further amid… Read more »

Central African Republic: Violence Continues to Spiral

AfricaFocus, 19 December 2013

According to two new reports, by Amnesty International and Human Rights Watch, violence in the Central African Republic continues to spiral upwards, with armed militias identifying… Read more »

Central African Republic: Sectarian Atrocities Escalate - Hundreds Killed in Violence in North Targeting Muslims, Christians

HRW, 18 December 2013

Christian militias responding to rampant abuses by Muslim armed groups have committed atrocities against Muslim communities in northern Central African Republic, Human Rights Watch… Read more »
InFocus
The National Transitional Council has begun the search for a new interim president as some members of the country's security forces reported back for duty. Read more »

Insecurity is making the delivery of humanitarian assistance difficult and as the number of people now displaced by the fighting passes 935,000, the UN refugee agency warns. Read more »