Obama's U.S.-Africa Summit - Who's In, Who's Out
Egypt, Eritrea, Guinea-Bissau, Madagascar, Sudan, Western Sahara and Zimbabwe have not been invited by President Barack Obama to the U.S.-Africa Summit in Washington in August. But President Uhuru Kenyatta has, despite being under indictment at the International Criminal Court.
Video
Publisher:

Publication Date:

27 January 2014

Early in his presidency, Mr. Obama told Africans the continent doesn't need "strongmen," instead it needs strong institutions. Today, many Africans ... see more »
InFocus
In a bid to "strengthen trade and investment ties" with the continent, the White House has announced that President Barack Obama will host a summit of African leaders in August, ... Read more »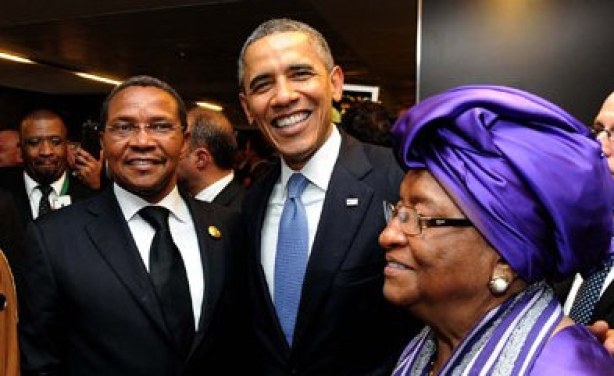 Tanzanian President Jakaya Kikwete, U.S. President Barack Obama and Liberian President Ellen Johnson Sirleaf at Nelson Mandela's memorial service.