Gunmen Storm Libya's Parliament
An attack by gunmen on the country's parliament, the second in recent months, has forced MPs to abandon a vote on the next prime minister.


Libya: Gunmen Storm Parliament

Deutsche Welle, 29 April 2014

Gunmen have stormed the seat of Libya's General National Congress in Tripoli. The attack came as parliamentarians were preparing to elect a new prime minister. Read more »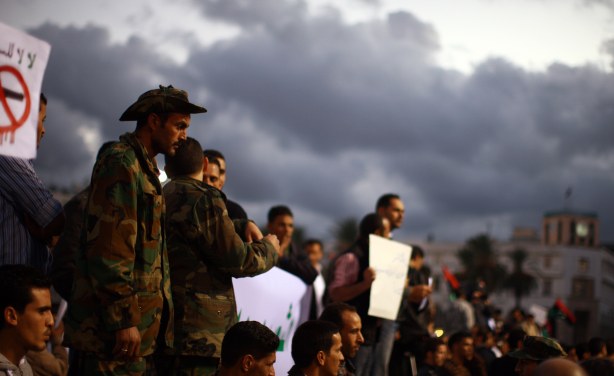 A crowd of demonstrators protest the ongoing use of weapons by rebel militias inside of Tripoli (file photo).
Libya: Protestors Attack Libyan Congress

Magharebia, 3 March 2014

Two members of Libya's General National Congress (GNC) were shot by demonstrators who stormed parliament on Sunday (March 2nd), AFP reported. Read more »

Libya: Govt Relocates Parliament After Attack

VOA, 3 March 2014

Libyan militiamen stormed the country's national assembly overnight, beating and shooting a number of MPs. Both the interim government and U.N. mission in Tripoli are warning… Read more »

Libya: UN Condemns Attack on Parliament

UN News, 3 March 2014

The United Nations mission in Libya has strongly condemned the attack that took place on Sunday against the country's parliament and its members, and stressed the need for… Read more »

Libya: Legislators Shot in Parliament Protest

Deutsche Welle, 3 March 2014

Dozens of protesters have stormed Libya's parliament building, shooting and injuring two lawmakers and wounding several others. The protesters were contesting the interim… Read more »

Tunisia: Marzouki Denounces Coup Bid in Libya

Tunis Afrique Presse, 15 February 2014

Caretaker President Moncef Marzouki denounced on Friday the coup bid in Libya. Read more »

Libya: Libya's Interim Prime Minister Quits

VOA, 14 April 2014

Libya's interim Prime Minister Abdullah al-Thani, who has held the post for less than three weeks, has excused himself from forming a new government, after he and his family came… Read more »

Libya: Interim Prime Minister Resigns

Deutsche Welle, 13 April 2014

Libya's interim Prime Minister Abdullah al-Thani has handed in his resignation, citing an attempted attack on his family. He is the second Libyan premier to leave the post in as… Read more »
InFocus
Armed activists contesting the interim parliament's decision to extend its mandate attacked and "abused" lawmakers when they stormed the building in Tripoli. Read more »

A group of armed men have reportedly occupied an area near Libya's parliament building after new Prime Minister Ali Zeidan and his Congress approved the Cabinet line-up. Read more »