'Why Is There Still So Much Rape in Liberia?'
Up to three-quarters of Liberian women suffered sexual violence during the 14-year civil war. Even though the conflict ended in 2003, the country still has some of the highest incidences of sexual violence against women in the world, according to the London-based Overseas Development Institute (ODI).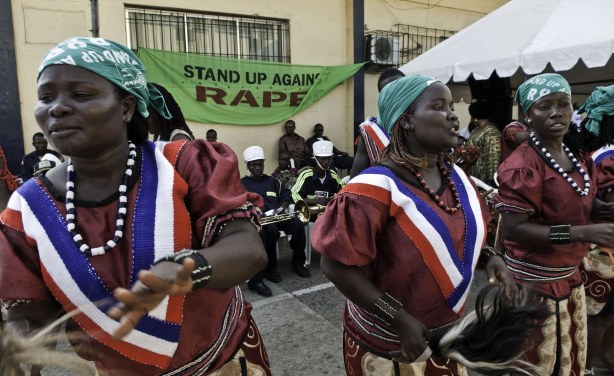 Dancers at the launch of an anti-rape campaign in Monrovia (file photo).
Liberia: Elderly Man 'Rapes' Girl, 13 in Soul Clinic

Heritage, 2 June 2014

A 13-year-old girl was on Wednesday, May 28, 2014 'raped' by an elderly man in the Garzah Community in Soul Clinic, Paynesville, outside Monrovia. Read more »

Liberia: Father Rapes Daughter

New Democrat, 28 May 2014

Spectators stood agape in the Zwedru Courthouse in Grand Gedeh County last week when a weeping 14-year old girl narrated the incredible and depraved story of her father raping and… Read more »

Liberia: Rape Law Congests Prisons

New Dawn, 16 May 2014

The Public Defenders in Liberia say most of the defendants in prisons are pre-trial detainees due to a rape law that disallows preliminary examination. Liberia's Public Defender… Read more »

Liberia: Rape Cases Escalate

New Democrat, 17 April 2014

It is lunch time at the Light Stream Academy School on Pagos Island in Monrovia. The stretch of land, with more than 4000 inhabitants, is completely cut off from the rest of the… Read more »

Liberia: Raped for Life - Tale of a Teenage Girl Forced Into Marriage By Caretaker-Parents in Monrovia, Nurses Preempt Complications At Childbirth

New Dawn, 28 April 2014

This special investigation, supported by the Liberia Women Media Action Committee (LIWOMAC), features a teenage girl brought in Monrovia from Foya, Lofa County, by relatives who… Read more »

Liberia: Man, 49, Charged With Statutory Rape

Heritage, 17 April 2014

Police in Harper, Maryland County have arrested and charged a 49-year-old man with statutory rape for having sexual intercourse with a 15-year-old girl. Read more »

Liberia: Rape Victim Laments Force Attack By Four Men in Bong County

FrontPageAfrica, 10 April 2014

One could feel the pain in her heart as 25-year-old Patience (not her real name) recounted her ordeal. Showing our correspondent a swollen ankle, she says she would not have been… Read more »
InFocus
Jessica Vale's documentary "Small Small Thing" which follows a young girl in Liberia who was raped at the tender age will be screened at Temple University in America. Read more »