Concerns About Africa's Aging Leaders
Richard Dowden of African Arguments takes a look at the African presidents who seem to be in "denial about the inevitable future of all human beings".
Africa: Aging Leaders Must Give Way or Face Disaster

African Arguments, 30 June 2014

Telling Africans and their leaders what to do - or not do - is not in my nature. Outsiders do not have a good record in this area. But sometimes situations and events become so… Read more »

Zambia: Bid to Move President Sata from Israel to India - Report

Zambia Reports, 29 June 2014

An investigation has revealed that there were schemes by the government and family members to evacuate ailing president Michael Sata from Israel to India for continued medical… Read more »

Uganda: Opposition Parties in Uganda Threaten to Use Army Against Museveni

Sudan Tribune, 25 June 2014

The main opposition leaders in Uganda have warned president Yoweri Museveni not to continue to rely on the army to intimidate his political opponents and entrench his rule in the… Read more »

Algeria: Algerians Take Stability Over Change, and Who Can Blame Them?

Daily Maverick, 21 April 2014

Algeria's Abdelaziz Bouteflika personifies much of what is wrong with African governance: the corruption, the patronage, the sheer longevity of his time in office have all stunted… Read more »

Algeria: Algeria's Dying Dictatorship

Addis Standard, 2 May 2014

Despite his failing health, Algerian President Abdelaziz Bouteflika won a fourth term last month, with 81% of the vote - or so the regime claimed. In fact, far from signaling… Read more »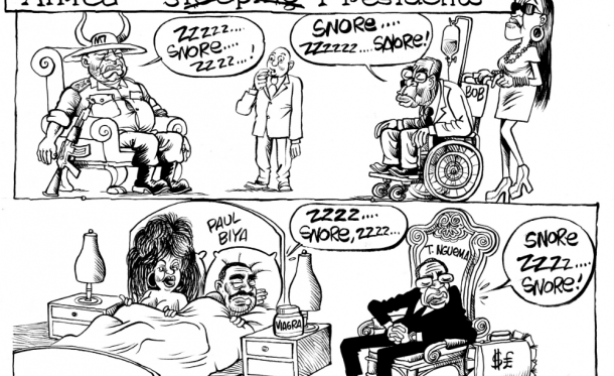 File photo.
InFocus
Reports of prostate cancer, an eye cataract, knee problems and a generally failing health due to old age have raised concerns about the 90-year-old's ability to provide effective ... Read more »