African Private Sector Pledges $28m to Unified Ebola Fight
Leading African businesses have pledged $28.5 million for a fund to fight the Ebola outbreak devastating three west African nations. A roundtable in Addis Ababa by the African Union, African Development Bank and UN Economic Commission for Africa was attended by some of the continent's best-known and wealthiest private sector leaders.
Africa: Continent's Millionaires Donate to Ebola Fight

This Day, 9 November 2014

A total of $28.5 million has been raised from the continent's wealthiest individuals and firms for a fund to fight the Ebola outbreak ravaging three West African nations. Read more »

Africa: Business Leaders Commit $28.5 Initial Emergency Fund Towards Africa's Ebola Response

Economic Commission for Africa, 8 November 2014

A historic Roundtable of business leaders comprising CEOs from a range of sectors such as banking, telecommunications, mining, energy, services and manufacturing joined forces with… Read more »

Africa: Kaberuka Commends African Businesses Pledges of $28.5m to Fight Ebola

African Development Bank, 8 November 2014

West Africa got a sigh of relief Saturday as the African business community pledged US $28.5 million towards the fight against Ebola, which has damaged the social-economic progress… Read more »

West Africa: UBA Commits $1million to the Ebola Fight

UBA Group, 12 November 2014

The United Bank for Africa (UBA) Board Chairman, Tony O Elumelu, has announced the donation of $1million, to assist the fight against Ebola, currently present in three West African… Read more »

Africa: Businesses Join AU, AfDB and UNECA in Ebola Fight

African Union, 8 November 2014

At an historic meeting today, the African Union together with African Development Bank, the United Nations Economic Commission for Africa and leading businesses in Africa committed… Read more »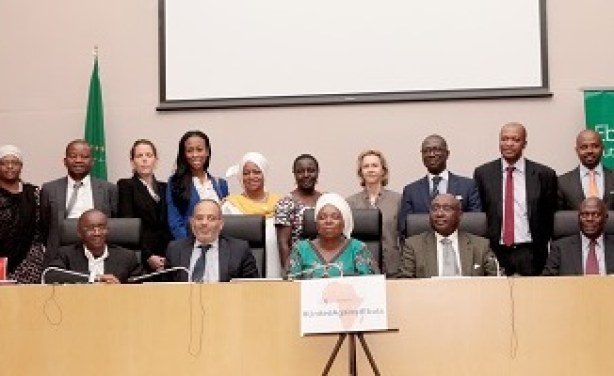 African Business Roundtable on Ebola at African Union headquarters in Addis.
Africa: Kaberuka Makes a Call for Individual Contributions in Fight Against Ebola

African Development Bank, 8 November 2014

The Ebola scourge should not be taken as a problem affecting individual countries, but should be taken on by each and every African, Donald Kaberuka, President of the African… Read more »

Africa: Funding to Fight Ebola Pledged by African Union & Private Sector

Premium Times, 8 November 2014

The African Union, AU, on Saturday created a 750-million dollar special fund for curbing the spread of Ebola Virus Disease, EVD, in some parts of West Africa. Read more »

Africa: Heads of AfDB, AU and ECA Join Forces With African Business Leaders to Launch Ebola Response Fund

African Development Bank, 8 November 2014

At an historic meeting on Saturday, November 8 at the African Union headquarters in Addis Ababa, Ethiopia, the African Union together with African Development Bank, the United… Read more »

Africa: African Union Rallies Private Sector to Fight Ebola

African Union, 31 October 2014

The African Union is joining forces with Africa's private sector, for the first time, to fight the Ebola epidemic in West Africa, at a forum to be held on November 8 in Addis… Read more »

Africa: What Africa is Contributing to Ebola Fight - Dlamini-Zuma

allAfrica, 29 September 2014

During a High Level Meeting on Ebola at the United Nations on September 25, UN Secretary General Ban Ki Moon called for a heightened response from the international community. "The… Read more »
InFocus
As Liberia and its neighbors grapple with the worst ever outbreak of the Ebola Virus Disease, President Ellen Johnson Sirleaf cautions the global community in a guest column to ... Read more »