GE Names Julius Berger to Build Multi-Million Dollar Facility
Julius Berger Nigeria Plc has emerged as the preferred bidder to build General Electric's multi modal manufacturing and Assembly facility in Calabar Nigeria. The project is expected to create over 2000 jobs and make Calabar the hub of manufacturing for Power, Oil and Gas. Cross River Technical College will also get an upgrade. Read More on our GE Africa page.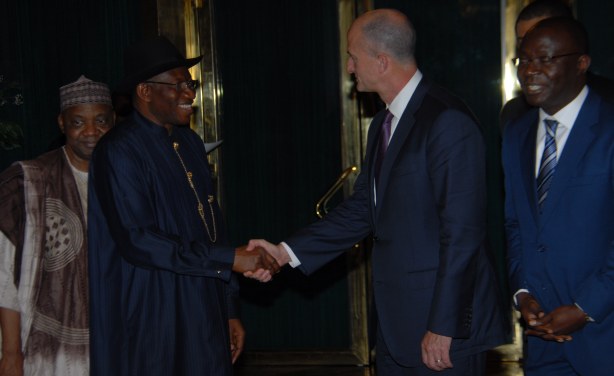 Executives of General Electric (GE) pay a courtesy call to inform the President of Nigeria that GE has awarded the contract for the construction of of its Calabar facility to Julius Berger. Photo: (L-R) Mohammed Namadi Sambo, Vice President of Nigeria; Goodluck Ebele Johnthan, President of the Federal Republic of Nigeria; John Rice, Vice President, GE Global and Lazarus Angbazo, CEO and President, GE Nigeria.
General Electric (GE) on Thursday signed a contract with Julius Berger Plc for the construction of GE Manufacturing and Assembly Facility in Calabar in the office of the Minister of Petroleum in Abuja. Photo shows (L-R) Mr. John Rice Global Vice- Chairman of GE having a warm hand shake with the Honourable Minister of Petroleum Resources, Mrs. Diezani Alison-Madueke while the Managing Director of Julius Berger Plc, Mr. Detlev Lubasch looks on

(L – R) Mr. John Rice Global Vice- Chairman of GE looks on while the Honourable Minister of Petroleum Resources, Mrs. Diezani Alison-Madueke is having a warm handshake with the Managing Director of Julius Berger Plc, Mr. Detlev Lubasch.

(L – R) Mr. Dave Herron, Director of Operations Julius Berger Plc and Mr. Lazarus Angbazo signing the contract with the Minister of Petroleum Resources Mrs. Diezani Alison-Madueke watching. Also watching behind are Mr. Jay Ireland, President GE Africa and John Rice Global Vice Chairman of GE
InFocus
It has taken GE four years of planning and over $4.5 million investment in facilities, recruitment and training to reach this new milestone - GE has announced that its facility in ... Read more »