Worrying Ebola Trend in Sierra Leone
Health authorities say the continued denial of the existence of Ebola and unsafe burials are driving up infections.
Sierra Leone: Worrying Ebola Trend

UNIRIN, 8 December 2014

In the week ending 30 November, Sierra Leone reported 537 confirmed Ebola cases, 152 more than the previous week and over four times the combined number of cases in Guinea and… Read more »

Sierra Leone: In Communities At Risk, the Fight Against Ebola and Malaria Goes Hand in Hand

Unicef, 5 December 2014

Around 2.4 million people will receive anti-malarial drugs during a UNICEF-supported campaign that begins today. As the malaria transmission season peaks in Sierra Leone, the move… Read more »

West Africa: Health Workers On Ebola Response Frontlines Get Boost With Donation of Protective Gear - UN

UN News, 8 December 2014

The first of 700,000 sets of protective gear intended for healthcare workers battling on the frontlines of the Ebola outbreak in West Africa arrived today from Japan and were… Read more »

West Africa: World Must Do 'Whatever It Takes' to Ensure Recovery of Ebola-Affected Countries - Ban

UN News, 5 December 2014

Secretary-General Ban Ki-moon appealed today to members of the United Nations Economic and Social Council (ECOSOC) "to do whatever it takes" to help the West African countries… Read more »

West Africa: The Politics of the Ebola Crisis in West Africa

Fahamu, 4 December 2014

Is this a warning of things to come? Read more »

Sierra Leone: Women Step up to Join the Fight Against Ebola in Sierra Leone

IFRC, 1 December 2014

The Red Cross safe and dignified burial teams respond to any calls reporting deaths to the 117 Ebola hotline within 24 hours, which is essential to stem other potential outbreaks. Read more »

Guinea: Ebola Epidemic Could Drain $3-4 Billion From Sub-Saharan African Economy, Reverse Peacebuilding Gains in Hardest-Hit Nations, Economic and Social Council Told

UN, 5 December 2014

Speakers Call for Continued International Aid to Ensure Sustainable Development Read more »

West Africa: On the Frontline Against Ebola

MSF, 4 December 2014

Médecins Sans Frontières (MSF) has a strict no-guns policy. But the hygienists in the Ebola case management centre in Bo, Sierra Leone are armed against the virus.… Read more »

Sierra Leone: As Ebola Cases Spike in Western Area MPs Request More Support

Concord, 4 December 2014

Members of Parliament representing constituencies in the Urban and Rural Districts of the Western Area have requested for more support from, and collaboration with the National… Read more »

Sierra Leone: Volunteering Gave Me Confidence, Says Ebola Volunteer

IFRC, 5 December 2014

The Ebola crisis in West Africa has resulted in people from all walks of life stepping up to serve as volunteers in the concerted efforts to eradicate the virus. When asked why… Read more »

Sierra Leone: U.S.$99 Million Additional Ebola Response Grant Agreement Ratified

Concord, 4 December 2014

Parliament on Monday ratified a US$99,450,000 grant agreement signed between the Government of Sierra Leone and the International Development Association, dated 20 November 2014,… Read more »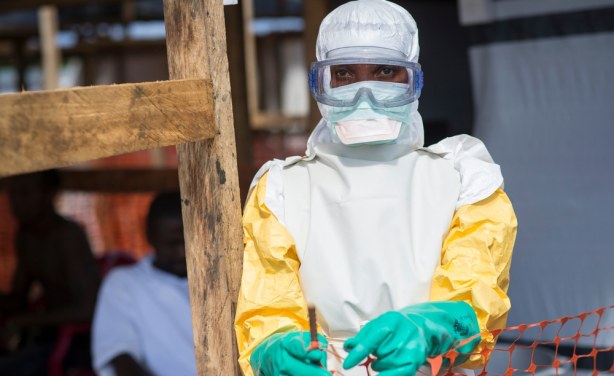 A Médecins Sans Frontières (MSF) nurse enters the high-risk area of Kailahun after getting dressed in protective clothing (file photo).