People Affected by Ebola Tops 20,000 - UN
According to the latest WHO update, as of 27 December, 20,081 people have been reported infected - with 7,842 deaths.
West Africa: People Affected By Ebola Tops 20,000 - UN

UN News, 29 December 2014

The head of the United Nations Ebola emergency response mission is set to open a treatment facility in Liberia near the Sierra Leonean border during a visit to review where the UN… Read more »

West Africa: Ebola - What Next and Where?

UNIRIN, 29 December 2014

West Africa's Ebola epidemic has cruelly exposed the weaknesses of health systems in the countries where it struck. It was understandable that they were not prepared for Ebola,… Read more »

Liberia: Ebola Kills 8,153 in S/Leone, Liberia, Guinea, Others - WHO

Vanguard, 7 January 2015

LAGOS -- The worst Ebola outbreak on record has killed 8,153 people out of the total number of 20,656 confirmed, probable and suspected cases, a mortality rate of 39 per cent, even… Read more »

Liberia: Thousands Quarantined After Corpse Tests Positive for Ebola

Observer, 29 December 2014

Two thousand persons have been quarantined in Lofe Town, Margibi County, after a corpse transported for burial was confirmed by the County Health Authorities of being Ebola… Read more »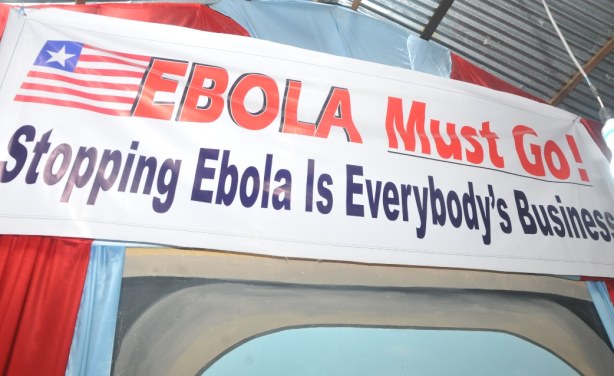 A banner depicting the campaign theme - Ebola Must Go - Ebola is Everybody's Business.