Mali Violence Worries Neighbours
The latest violence involving several suicide bombers came days after the head of the African Union Mission for Mali and the Sahel expressed grave concern over the deteriorating security situation.
West Africa: Mali Violence Worries African Neighbours

Magharebia, 29 January 2015

Insecurity in northern Mali is raising concerns for the entire Sahel-Saharan region. The latest violence late Tuesday night (January 27th) involved several suicide bombers. Twelve… Read more »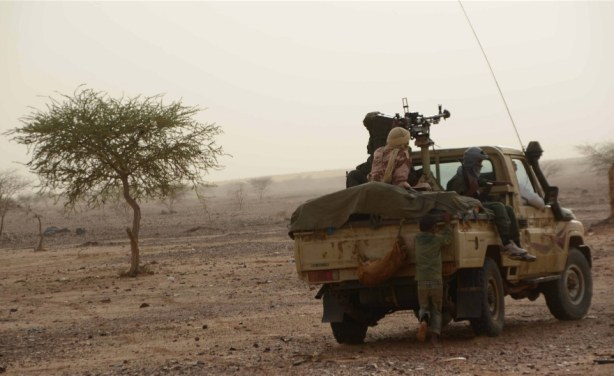 Fighters on patrol in northern Mali (file photo).
Mali: Latest Developments in Northern Mali May Undermine Algiers Talks

Algerie Presse Service, 23 January 2015

Algeria, leading mediator in the Inter-Malian dialogue, represented by Foreign Minister Ramtane Lamamra, and the UN through the voice of its representative in Mali, Hamdi Mongi,… Read more »

Mali: Minusma Chief Praises Peace Efforts for Resolution of Northern Mali Crisis

Algerie Presse Service, 22 January 2015

The Chief of the United Nations Multidimensional Integrated Stabilization Mission in Mali (MINUSMA) Mongi Hamdi on Thursday in Algiers praised the peace process for the resolution… Read more »

Algeria: AU Summit, an Opportunity to Encourage Parties Involved in Inter-Malian Dialogue

Algerie Presse Service, 27 January 2015

The summit of the African Union (AU) will be an opportunity to encourage and express support to the different parties involved in the inter-Malian dialogue, said Tuesday in Addis… Read more »

Mali: Malian Crisis - 5th Round of Dialogue, Focus of Algiers Meetings

Algerie Presse Service, 24 January 2015

The fifth round of the inter-Malian dialogue was at the centre of the consultations held this weekend by Algeria, head of the mediation, represented by Foreign Minister Ramtane… Read more »

Mali: Malian Crisis - Efforts Underway in Algiers to Consolidate Ceasefire in Northern Mali

Algerie Presse Service, 22 January 2015

Talks have continued Thursday in Algiers to "consolidate" the ceasefire in the North of Mali, where attacks against the United Nations Multidimensional Integrated Stabilization… Read more »

Mali: Malian Foreign Minister Hopes Next Negotiation Round to Be Decisive

Algerie Presse Service, 22 January 2015

Malian Minister of Foreign Affairs Abdoulay Diop expressed, Wednesday, the wish to see the next round of the inter-Malian negotiations enter a "decisive" phase and "not that of a… Read more »
InFocus
Thousands of northerners are struggling to find redress amidst concerns that a climate of impunity is continuing and the government's control in many areas of the north is shaky. Read more »

The government says it is prepared to make concessions to achieve peace but will not compromise the territorial unity of the country. Read more »