​Namibia's Liberation Struggle and the 2014 Elections
We could see the trauma of the struggle in the faces of the Namibians we interviewed, write Matthew Ecker and Bernard C. Moore of their documentary chronicling the nation's journey to independence.
Namibia: Foreign Ministry Represents President of Republic At Inauguration of Namibia New President

SPS, 22 March 2015

The Minister of Foreign Affairs, Mr. Mohamed Salem Ould Salek,represented Saturday the President of the Republic, Mohamed Abdelaziz, at the inauguration of the new President of the… Read more »

Namibia: Namibia Marks 25th Independence Anniversary With New President

Daily News, 23 March 2015

BUSHMEN, native of Namibia who roamed its arid terrain before colonial days and earned their livelihood by gathering tubers, said God made their land in anger. Read more »

Tanzania: Namibia Hails Dar's Independence Contribution

Daily News, 22 March 2015

NAMIBIA will forever cherish Tanzania's active role in helping the former attain its independence two decades ago. Read more »

Namibia: Films in Celebration of Namibia's 25 Years of Independence

Namibian, 23 March 2015

In celebration of Namibia's 25th anniversary of independence, the FNCC and the Embassy of the Republic of Congo present the screening of the documentary 'Plot for Peace' (Complot… Read more »

Namibia: ​Namibia's Liberation Struggle and the 2014 Elections

allAfrica, 20 March 2015

"What do you think will be happening with the Namibian elections next week?" we asked Henning Melber at his Indianapolis hotel bar; we were all attending the Annual… Read more »
Video
Author:

Bernard C. Moore and Matthew Ecker

Publisher:

Bernard C. Moore and Matthew Ecker

Publication Date:

9 October 2013

One of a three-part Documentary Series on Namibia. This film presents an oral history of the anti-apartheid struggle in Namibia. Focus is given to ... see more »
InFocus
The President-elect Hage Geingob has named Finance Minister Saara Kuugongelwa-Amadhila as the country's prime minister. Read more »

Impressed by President Hifikepunye Pohamba's role in "forging national cohesion and reconciliation" in Namibia, the committee which judges the Ibrahim Prize for Achievement in ... Read more »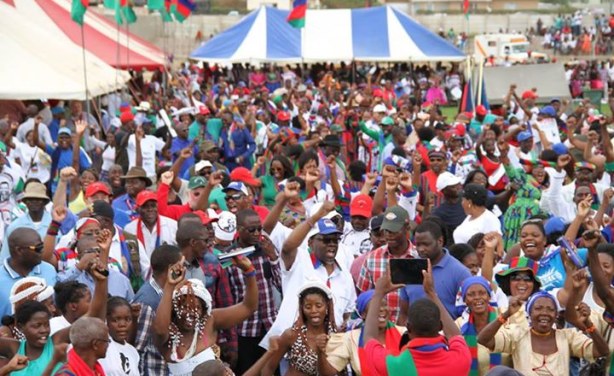 Swapo veteran and president-elect minister Hage Geingob on the campaign trail.