Drug-Resistant TB May Claim 75 Million by 2050
"The rising global burden of multidrug-resistant TB and other drug-resistant infections will come at a human and economic cost which the global community simply cannot afford to ignore," an economist has warned.
Africa: Drug-Resistant TB Threatens to Kill 75m People by 2050

Thomson Reuters Foundation, 24 March 2015

Over the next 35 years, multidrug-resistant tuberculosis will kill 75 million people and could cost the global economy a cumulative $16.7 trillion - the equivalent of the European… Read more »

Nigeria: Experts Raise Concerns Over TB Management

Vanguard, 25 February 2015

With Nigeria ranking amongst 22 top countries with high burden of Tuberculosis globally, experts have raised concerns over substantial gap between the effective management of TB at… Read more »

Africa: TB - Ready, Set, Slow Down: New and Promising DR-TB Drugs Are Grabbing Headlines but Not Reaching Patients

MSF, 23 March 2015

The buzz started well before the first new TB drug in half a century was approved for use on the last day of 2012: two forthcoming new TB medicines would radically improve cure and… Read more »

South Africa: TB Toll is 'Disgraceful' and 'Unacceptable' Says Desmond Tutu

Tutu TB Centre, 24 March 2015

Tutu calls for more action to prevent, diagnose and treat TB during screening of film marking World TB Day in South Africa. Read more »

Africa: Disasters Have Same Human Impact As Tuberculosis - UN

Thomson Reuters Foundation, 4 March 2015

Deaths, economic damage and other negative impacts from disasters have caused losses equivalent to 42 million life years annually since 1980, a measure that is comparable to the… Read more »

Africa: Tuberculosis Drug Candidate Begins Clinical Safety Trial

SciDev.Net, 25 February 2015

The first clinical safety trial on a tuberculosis drug since 2009 is now under way. Read more »

Angola: The 2013 Budget Trickery and the Looting in the TB Sanatorium

Maka, 16 March 2015

As the current economic crisis in Angola has deepened, citizens are finally beginning to ask how tens of billions of dollars in oil revenues have been spent. In its report on the… Read more »

Rwanda: TB Day - How Is Rwanda Faring?

New Times, 23 March 2015

Tomorrow, the World will mark the Tuberclosis (T.B) day. The day is used to build public awareness that TB remains an epidemic in much of the world, causing deaths of nearly… Read more »

Malawi: Trust to Launch Clubs to Help End Discrimination Against Tuberculosis Patients

Malawi News Agency, 2 March 2015

Paradiso TB PatientsTrust, an organisation which promotes rights of people infected by tuberculosis (TB) says it would soon establish five TB clubs in Mchinji district in a bid to… Read more »

Kenya: HIV /TB in Adolescents Needs a Different Approach

The Star, 16 March 2015

Do you remember that time when you had just passed thirteen years of age but were still below eighteen? You weren't technically an adult but neither were you a child. Your parents… Read more »

Zimbabwe: Innocent Victims of TB in Vulnerable Communities

The Herald, 21 March 2015

Each year on March 24, WHO joins the rest of the international community to commemorate World TB Day. Read more »

Kenya: Innovative Solutions When Dealing With Adolescent TB

The Star, 17 March 2015

Have you ever been seated in a hotel or even just a restaurant and there's a family seated opposite you, the father is on his laptop, the mother on a tablet, the daughter on her… Read more »

Nigeria: Benue State Establishes HIV/Tuberculosis Treatment Centre

Leadership, 21 March 2015

In a bid to improve the living conditions of the teeming populace of the state and the country at large, a treatment centre to foster reduction of HIV and tuberculosis has been… Read more »
Documents
Publisher:

MSF

Publication Date:

24 March 2015

Why is this report significant? In 2011, the South African Department of Health (DoH) introduced a national policy of 'decentralised DR-TB care, which ... see more »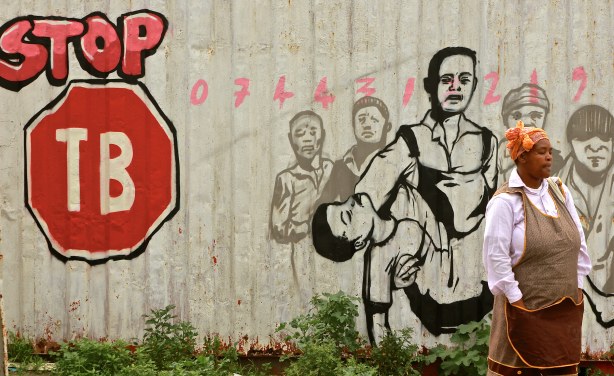 Breathe Umphefumlo is a modern adaptation of the opera La Bohéme, in which the main character, Mimi, dies of TB.
InFocus
The world is fighting a difficult battle against the spread of tuberculosis as a greater number of cases have been confirmed than previously estimated coupled with a shortfall in ... Read more »

According to new research involving 2,800 children hospitalized in South Africa, Malawi and Kenya, the key to better TB diagnosis could lie in 51 genes found in the blood of ... Read more »

When Phumeza Tisile was diagnosed with extensively drug-resistant tuberculosis she thought was going to die but an antibiotic - that is not only very expensive but difficult to ... Read more »