Tap Our Own Wealth to Finance Africa's Development!
Africa should 'tap its own wealth' to finance development, Ethiopia's Minister of Finance and Economic Development, Abraham Tekeste, told the annual joint gathering of the African Union (AU) and the United Nations Economic Commission for Africa (Uneca) taking place in Addis Ababa. Participants in the week-long conference include Ethiopia's Prime Minister Haliemariam Dessalegn and Presidents Paul Kagame of Rwanda and Kenya's Uhuru Kenyatta, as well as ministers of finance, planning and economic development from across the continent.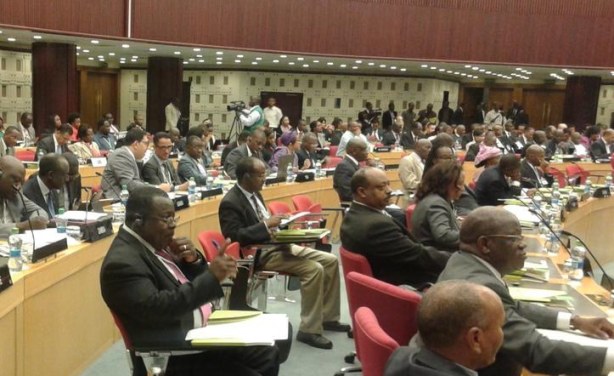 Committee of experts meeting gets underway at the UNECA 8th annual conference.
Africa: African Communities Want Answers, Not Bare Data

Economic Commission for Africa, 27 March 2015

African communities want answers, not bare data, as to why, how and when their leaders make decisions that affect their day-to-day lives. And open data, is, therefore, only a means… Read more »

Africa: African Leaders to Address the Economic Commission for Africa's Minister's Meeting.

Economic Commission for Africa, 27 March 2015

Financing Africa's transformation, regional integration, data revolution, Ebola and climate change to be discussed at the conference. Read more »

Africa: Africa Now the Land of Opportunity, Experts Say

Economic Commission for Africa, 27 March 2015

Addis Ababa, 26 March 2015 (AUC-ECA) - Africa must change the global narrative on its social and economic wellbeing, owing to its consistently positive performance in terms of… Read more »

Africa: Integrating Africa's Priorities in the Post 2015 Development Agenda

Economic Commission for Africa, 26 March 2015

Experts discussed the common African position on the Post 2015 Development Agenda at the Committee of Experts meeting organized ahead of the 2015 Conference of African Ministers of… Read more »

Africa: People First, Demand African Csos At Financing for Development Consultation

Economic Commission for Africa, 26 March 2015

If African development and economic transformation are to succeed, international financial institutions (IFIs) and domestic policies must reform, stated African Civil Society… Read more »

Africa: African Development Needs a Suitable Finance System

Economic Commission for Africa, 24 March 2015

Speaking at the opening of the Regional Consultation towards the Third International Conference of Financing for Development held in Addis Ababa on 23 March 2015, Mr Abraham… Read more »
InFocus
The sprawling headquarters for the UN Economic Commission for Africa (ECA) is bustling with activities as participants arrive for weeklong discussions of Africa's development ... Read more »