West African Presidents Appeal for Post-Ebola Aid
The leaders of the West African countries hardest hit by the Ebola outbreak of the past year have called on the international community to support a recovery plan which will promote economic growth, create new jobs and finance the rebuilding of health, education and social protection systems which have been destroyed.
Video
Publisher:

Publication Date:

15 April 2015

President Obama speaks before meeting with the heads of West African countries to discuss the progress we've made on the Ebola outbreak. April 15, ... see more »
InFocus
The U.S president has said that while the hardest-hit countries have made much progress, "now we're focused on a major shared goal, and that is getting to zero". Read more »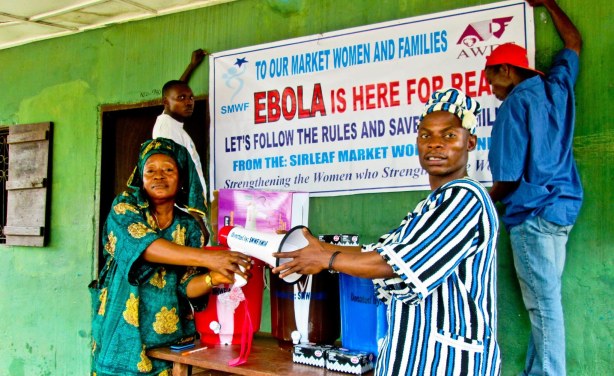 The Ebola project initiated by the African Women's Development Fund.
Africa: The Life-Saving Ebola Drugs the World Is Ignoring

UNIRIN, 3 April 2015

Last month, IRIN published this interview with UN Special Envoy for Ebola, Dr. David Nabarro, outlining his priorities in dealing with the outbreak. Read more »

West Africa: One Year After Who Report On Ebola - Funders Advocate for Intensive Funding of On-the-Ground African Organizations

Fahamu, 2 April 2015

They point out that organizations located in the communities they serve have the trust, networks, and cultural understanding to accomplish what international organizations cannot. Read more »

Africa: Rebooting Public Health Services

MSF, 2 April 2015

While the number of Ebola-infected patients in Liberia has steadily declined, MSF is assisting the local health system to safely restore medical services. Read more »

West Africa: Stronger Health Systems Could Go a Long Way to Preventing Ebola Outbreaks

Africa In Fact, 31 March 2015

In August 2014, at the height of west Africa's Ebola outbreak, Tolbert Nyensuah, the head of the Liberian health ministry's Ebola response team, wrung his hands in frustration. Read more »

Liberia: Liberia, Sierra Leone Gain in Ebola Crisis - Guinea Struggles

New Dawn, 3 April 2015

Sierra Leone and Liberia both appear to be on steady paths to ending the epidemic. The wild card is Guinea, where Ebola hasn't burned as hot but remains stubbornly entrenched. Read more »

West Africa: Ebola Disease Models 'Need Room for Randomness'

SciDev.Net, 1 April 2015

Models used to manage disease outbreaks such as the ongoing Ebola epidemic must make greater allowances for uncertainty, according to a paper published today by the Royal Society… Read more »

Africa: Bushmeat Guide 'Unrealistic About Commercial Hunting'

SciDev.Net, 18 March 2015

Conservation biologists studying the effects of bushmeat hunting in Africa have criticised a UN Food and Agriculture Organization (FAO) report for making unrealistic claims about… Read more »

Africa: Ebola and HIV - How to Change Behaviour for the Long Term

UNIRIN, 20 March 2015

There have been no new Ebola infections in Liberia in the past three weeks, but it's still far too early to say the virus has been defeated - Liberia's borders are porous and its… Read more »

West Africa: Potential Ebola Treatment Mechanism Discovered

SciDev.Net, 4 March 2015

A possible mechanism to treat infection by the deadly Marburg and Ebola viruses has been uncovered by scientists working in the United States. Read more »